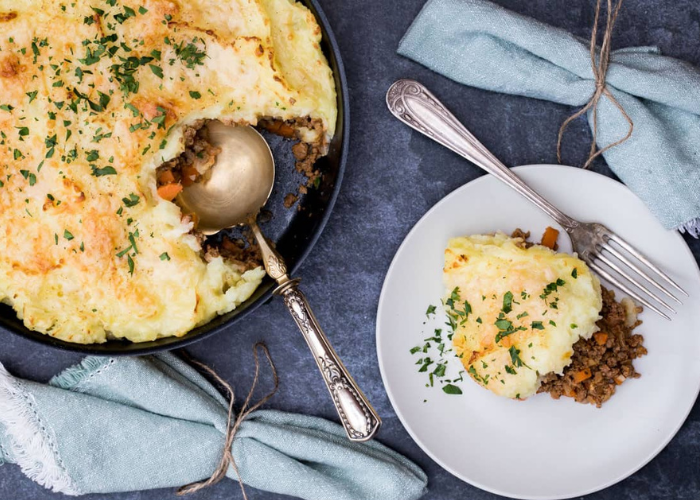 Hachis Parmentier is a classic French dish that features a savory ground beef mixture covered by fluffy, cheesy mashed potatoes. Comforting and hearty!
Serves 4-6 | Time Required: 1 hr 20 mins
INGREDIENTS
1 small yellow onion
2 garlic cloves
2 large carrots
900g New (Chat) potatoes
700g Green Meadows New Zealand Angus Beef Mince
¼ cup grated Parmesan cheese, divided
120ml Hokkaido Fresh Milk
1 tablespoon chopped parsley, plus more to garnish
From Your Pantry
1 egg yolk
2 tablespoons Oilala Extra Virgin Olive Oil
2.5 tablespoons tomato paste
3.5 tablespoons Le Beurre Bordier Butter Semi Sel 2.8%
½ teaspoon herbes de Provence (blend of thyme, rosemary, savory, marjoram, and oregano)
3 tablespoons grated Gruyère cheese
Salt and pepper
Nutmeg clove (optional)
METHOD
Preheat oven to 200 C
Peel and chop onion and carrots into very small pieces (about 1 cm chunks). Peel and finely chop garlic cloves. Peel potatoes, and cut into large chunks.
Heat olive oil in a large nonstick skillet over medium heat, and add chopped onion, garlic, and carrots. Sauté for 4 minutes, stirring frequently, until softened.
Add tomato paste, herbes de provence, ½ teaspoon of kosher salt, and ground beef. Cook for 8-10 minutes, until beef loses its pink color and is fully cooked.
Meanwhile, bring a large saucepan of salted water to a boil, then add potato chunks. Boil potato chunks for 15-20 minutes, or until fully tender.
After the beef mixture has cooled for several minutes, season with salt and pepper. Now stir in egg yolk, 2 tablespoons Parmesan cheese, and chopped parsley.
Pour meat mixture into an 8x8 baking dish or gratin dish.
When potatoes are done, drain them, then return to pan.
Add butter, milk, and ½ teaspoon of salt.
Mash with fork or with an electric mixer, until they have the consistency of mashed potatoes that you enjoy (they can be more rustic or more smooth, as you prefer!). Taste and add more salt or pepper if necessary.
Spread potatoes on top of meat mixture in baking dish, then grate a little bit of the nutmeg clove over the top (if you like).
Sprinkle the remaining 2 tablespoons of Parmesan cheese and the Gruyère cheese over the top.
Bake for 25-35 min, until Hachis Parmentier is hot and the cheese is beginning to brown on top.
Recipe and Image Credit: Vanilla Bean Cuisine
$37.70
For one of each item
$37.70
For one of each item