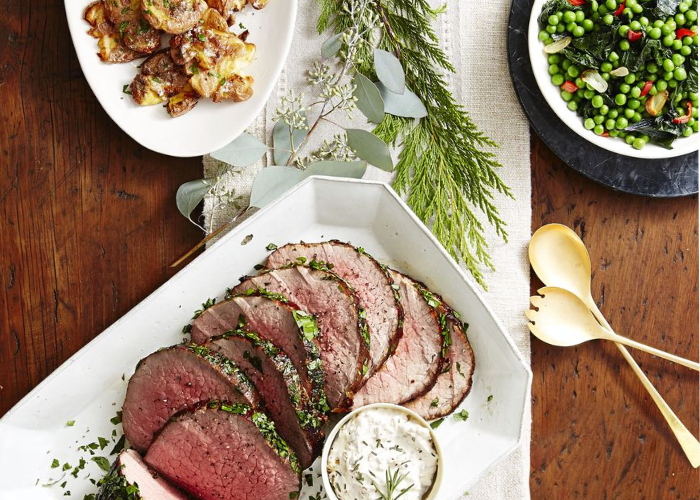 Deck your holiday table with this centerpiece-worthy roast.
Serves 4-6
INGREDIENTS
1kg New Zealand Premium Angus Beef Ribeye Mini Roast
1 tsp finely chopped fresh rosemary
1 tbsp Champagne or white wine vinegar
2 tbsp wholgrain mustard or Dijon mustard
50g packed fresh parsley, finely chopped 
From Your Pantry
220g packed fresh basil leaves, finely chopped
250ml sour cream
3 medium shallots, finely chopped
2 tsp + 1 tbsp vegetable oil
Salt
METHOD
Place beef on large sheet plastic wrap; sprinkle all over with 1 teaspoon salt, patting to adhere. Wrap tightly; refrigerate overnight.
Preheat oven to 120°C. Remove plastic from beef. Pat beef dry. Place on rack fitted into foil-lined rimmed baking sheet. Roast for 2 – 2.5 hours or until internal temperature reaches 55 – 60°C.
Meanwhile, in an 8-inch skillet on medium, cook shallots, rosemary and 1/4 teaspoon salt in 2 teaspoon of oil for 5 minutes or until shallots are golden, stirring often. Remove from heat. Add vinegar, scraping up any browned bits, then stir in mustard. Let mixture cool before stirring into sour cream. Cover and refrigerate.
In a 12-inch skillet on medium-high, heat 1 tablespoon oil until hot but not smoking. Pat beef dry. Add to skillet. Cook on all sides just until browned, about 6 minutes. Remove from heat. Combine basil and parsley; pat all over beef. Let stand at least 20 minutes before slicing very thinly. Serve with cream sauce.
Recipe and Image credit from: 
Good Housekeeping
$44.50
For one of each item
$44.50
For one of each item