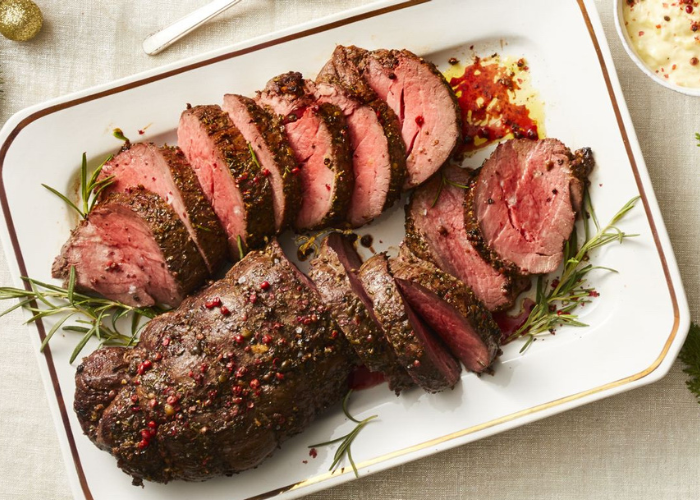 INGREDIENTS
Serves: 4-5
FOR THE TENDERLOIN
FOR THE HORSERADISH CREAM SAUCE
1 1/2 tbsp unsalted
butter
1
leek
, whites only, sliced into half-moons
60ml dry white wine
250ml heavy cream
50g fresh horseradish, peeled and finely grated
Salt
METHOD
For the tenderloin:
Heat oven to 200°C. Using meat mallet or bottom of heavy pan, coarsely crush peppercorns; transfer to small bowl. Strip leaves from rosemary, finely chop and add to same bowl along with honey and 1 teaspoon salt; mix to combine.
With paper towels, pat tenderloin dry. Place on rimmed baking sheet and rub with spice mixture. Roast to desired doneness, 60°C for medium-rare, 25 to 30 minutes. Transfer to cutting board; let rest at least 10 minutes before slicing. Serve with Horseradish Cream Sauce.
For the horseradish cream sauce:
Melt butter in medium saucepan on medium. Add leek and cook, stirring occasionally, until tender (do not let brown). Add vermouth and cook until syrupy, about 4 minutes. Stir in cream and simmer until reduced by half.
Remove from heat and stir in horseradish. Season with salt to taste. Makes about 250-300ml.