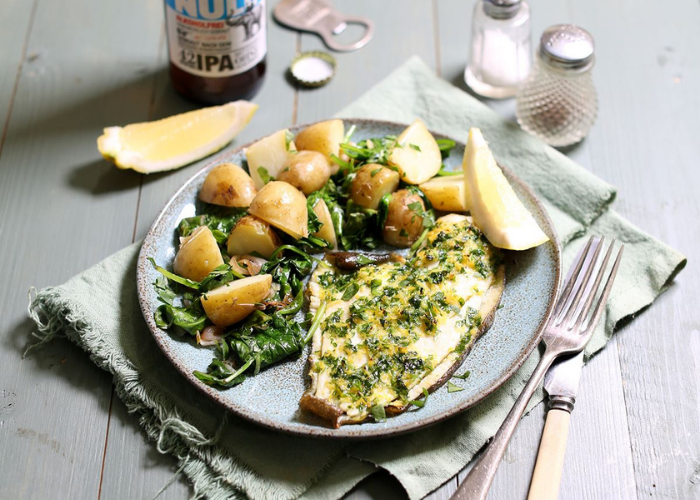 Beautifully delicate with amazing flavours, this is my favourite way to cook the Plaice. 
Serves 2 | Time Required: 40 Minutes
INGREDIENTS
500g New (Chat) Potatoes
50g butter, room temperature
A handful of flat leaf parsley
1 lemon
2 shallots
1 garlic clove
2-4 English Plaice Fillet, Skin-On, depending on appetite
100g Baby Spinach
From Your Pantry
METHOD
Scrub the potatoes (no need to peel them), chop them into bite-size chunks and add them to a pan. Pour in enough cold water to cover the spuds by 4-5cm and set the pan on the hob. Bring to the boil, then simmer for 10-15 mins, till the potatoes are tender.
Meanwhile, scoop half the room temperature butter into a small bowl. Finely chop the parsley, leaves and stalks, and add it to the butter. Grate in the lemon zest. Add a pinch of salt and pepper and mash together with a fork. Set aside.
Peel and finely chop the shallots. Peel and thinly slice the garlic.
Warm 1 tbsp olive oil in a frying pan on a medium heat. Slide the shallots and garlic into the pan. Add a little salt and pepper and fry for 3-4 mins, stirring occasionally, till softened.
While the shallots fry, set your grill to high. Line a baking tray with foil and lay the plaice fillets on top. Dot the herb butter over the plaice. Slide the fish under the hot grill and cook for 4-5 mins, till the butter is bubbling and the fish is cooked. It will flake easily when pressed with a fork.
Add the baby leaf spinach to the pan and cook with the shallots for 2-3 mins, stirring to wilt it.
When the potatoes are cooked, drain them and tip back into the pan. Add the remaining butter and a pinch of salt and pepper and roll the spuds around till coated. Divide the potatoes and spinach between a couple of plates. Top with the plaice fillets and serve with wedges of the remaining lemon on the side.
Recipe and Image Credit: Abel & Cole
$30.30
For one of each item
$30.30
For one of each item