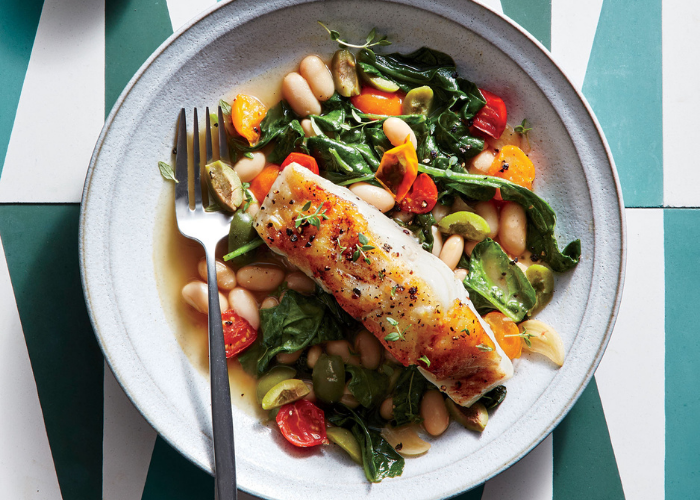 A lovely way to incorporate more fish into your diet. Serve this dish with a simple side salad, a chunk of crusty whole-grain bread, and a glass of wine for a classy and healthy dinner.
Serves 4 | Time Required: 30 Minutes
INGREDIENTS
4 Local Asian Seabass Fillet
5 garlic cloves, sliced
2 teaspoons fresh thyme leaves
8  Tomatoes, quartered (about 1/2 cup)
2/3 cup Our Very Own Chicken Stock
5 ounces fresh baby spinach
2 tablespoons fresh lemon juice
1 ounce pitted olives, quartered (about 1/3 cup)
From Your Pantry
1 can unsalted cannellini beans, rinsed and drained
3/4 teaspoon sea salt, divided
1/2 teaspoon black pepper, divided
3 tablespoons Oilala Extra Virgin Olive Oil, divided
METHOD
Heat a large nonstick skillet over medium-high.
Remove skin and sprinkle fish with 1/4 teaspoon salt and 1/4 teaspoon pepper.
Add 1 tablespoon oil to skillet; swirl to coat.
Add fish; cook to desired degree of doneness, about 3 minutes on each side for medium.
Remove fish from pan; discard drippings. (Do not wipe skillet clean.) Lightly tent fish with foil to keep warm.
Heat remaining 2 tablespoons oil in skillet over medium-high.
Add garlic; cook, stirring often, until light golden brown, about 1 minute.
Stir in thyme and tomatoes; cook, stirring often, until heated through, about 1 minute.
Add stock and beans; bring to a simmer. Add spinach in batches, and cook, tossing gently, until spinach is wilted after each addition.
Stir in lemon juice, olives, remaining 1/2 teaspoon salt, and remaining 1/4 teaspoon pepper.
Divide bean mixture among 4 shallow bowls; nestle 1 fillet into each bowl.
Recipe and Image Credit: Cooking Light
$27.00
For one of each item
$27.00
For one of each item