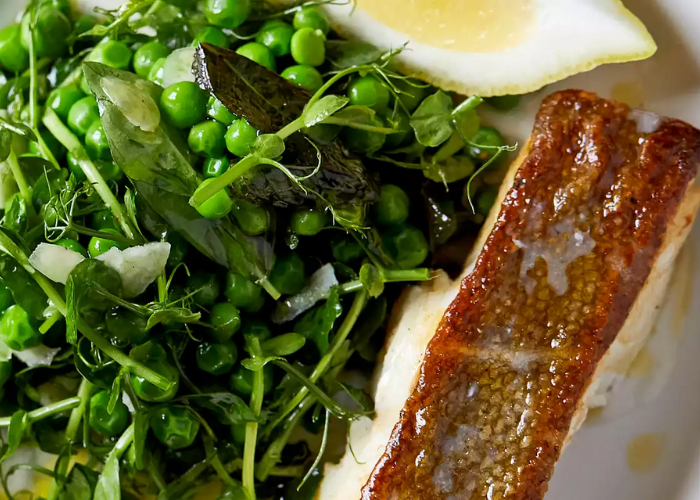 Simple, delicious and nutritious, this cod recipe will not disappoint. 
Serves 4 | Time Required: 30 Minutes
INGREDIENTS
4 fillets of Atlantic Cod, Skin On
1 tbsp sea salt flakes
3 tbsp Extra Virgin Olive Oil, plus extra for frying and baking
300g fresh or frozen peas
1 clove garlic, thinly sliced
Handful of basil leaves, chopped
Handful of mint leaves, chopped
300g pea shoots
1 lemon, cut into wedges
METHOD
Put the cod fillets into a tray and rub in the sea salt. Leave in the fridge for 1 hour, then gently wash off the salt under cold running water and pat really dry.
Heat the oven to 180 C. Heat a little oil in a frying pan and cook the cod fillets, skin-side down, for 2-3 minutes until the skin is crisp. Remove from the heat, put in a lightly oiled baking tray, skin-side up, and cook in the oven for 6 minutes or until cooked through. To test, a skewer should be easily pushed through the centre of a fillet.
Cook the peas in a large pan of boiling water for 5-10 minutes if fresh, or 1-2 minutes if frozen. Drain really well.
Put 3 tbsp of olive oil and the garlic in a bowl, then add the peas and stir gently until the oil coats the peas and the garlic is thoroughly combined. Leave to cool to room temperature then add the basil and mint leaves (it's best to do this once the mixture has cooled down to avoid discolouration of the leaves).
Put the cod fillets on 4 plates alongside the pea shoots and lemon wedges to squeeze over. Spoon over the peas and serve.
Recipe and Image Credit: Olive