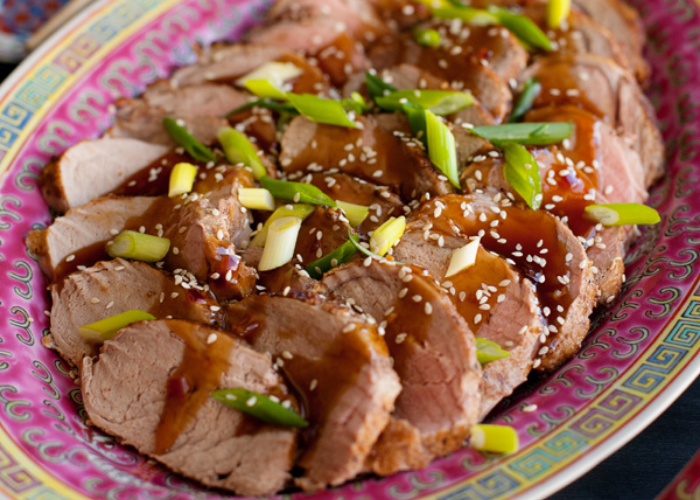 Tender and flavourful, this is a restaurant-quality classic dish that you can make at home. 
Serves 10 | Time Required: 1 hour
INGREDIENTS

Pork Tenderloin
2 Wicks Manor English Pork Tenderloin
2 tsps salt & 1 tsp black pepper
1 tspn garlic powder
1/2 tspn ground cinnamon
Honey Garlic Sauce
1/2 cup Honey
1/4 cup Tamari
2 tablespoons Extra Virgin Olive Oil
1 tablespoon hoisin sauce
1 tablespoon minced onion
1 teaspoon minced garlic
1/2 teaspoon sesame oil
1/4 cup cold water
1 1/2 tablespoons corn starch
1/4 teaspoon crushed red pepper flakes (optional)
METHOD
Prepare a baking tray by covering it with foil. Set aside.
In a small bowl, mix together the salt, black pepper, garlic powder and ground cinnamon. Rub on all sides of both pork loins and let the pork loins sit for 30 minutes. (If you need to wait longer than 30 minutes, be sure to put the pork in the refrigerator).
Preheat your oven to 400 degrees F. Place a large frying pan on the stove over medium-high heat. When pan is hot, add about 1 tablespoon olive oil.
Add the pork to the pan, one at a time, and sear each side for 1-2 minutes, until nicely browned.
Put the pork on the prepared baking sheet and put into the oven for 25-30 minutes, until the temperature registers between 145 and 155 degrees F on a meat thermometer.
Let the meat rest for ten minutes before slicing.
In a medium-size saucepan on the stove, add the honey, tamari, extra virgin olive oil, hoisin sauce, minced onion, minced garlic, and sesame oil. Heat over medium heat, stirring occasionally, until the mixture begins to boil.
Mix the cold water and corn starch together in a small bowl or cup. When the sauce ingredients come to a boil, slowly whisk in the corn starch mixture, and continue to boil, stirring constantly until sauce thickens. Remove from the heat to allow to cool slightly and thicken a little more. (You can add the red pepper flakes now if desired).
When ready to serve, slice the meat and arrange it on a platter. Pour desired amount of sauce over the top, and sprinkle with green onions and sesame seeds for garnish. Serve with rice and a lovely green salad.
Recipe and Image Credit: Melissa B. Howell