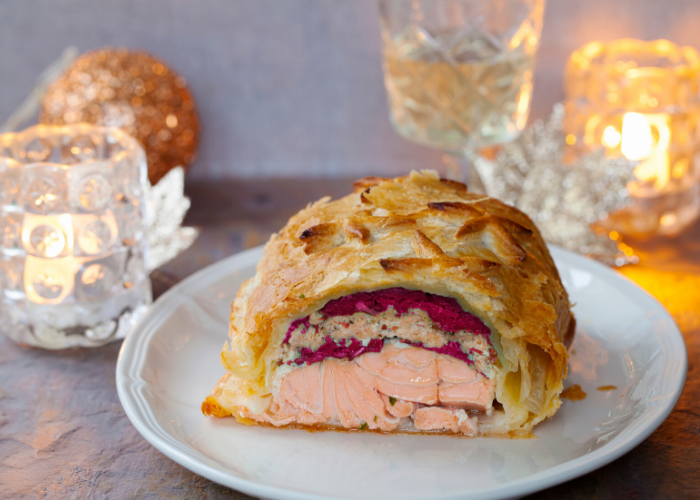 Serves 4
INGREDIENTS
600g of Mt. Cook Alpine New Zealand Salmon Whole Side, skinned
75g boiled Red Baby Beetroots, drained 
1 egg yolk, lightly beaten
From Your Pantry
375g puff pastry
200ml tub crème fraîche
2 tbsp creamed horseradish
1 pack fresh dill, chopped
Salt and pepper to taste
METHOD
1. Preheat the oven to 200°C, gas mark 6. Pat dry the salmon with kitchen paper and set aside. Mix together the crème fraîche, horseradish and dill, and season to taste. Pat dry the beetroot with kitchen paper, then chop roughly.
2. Unroll the pastry and place the salmon in the centre. Spread three quarters of the crème fraîche mixture over the top of the salmon, then scatter the beetroot evenly on the top.
3. Brush the edges of the pastry with egg yolk, then bring the long edges together in the middle, tucking in the ends as you go. Press the edges together tightly to seal and pinch all the way along the join, using thumb and finger, for a decorative finish. Brush the pastry all over with more egg yolk. Place on a greased baking tray and cook in the oven for 20-25 minutes, or until the pastry is golden.
4. Allow to stand for 5 minutes then cut into thick slices. Serve with buttered new (Chat) potatoes, red grape tomatoes, lightly steamed green beans and a spoonful of the remaining crème fraîche sauce.
or, if you're struggling for time, you can get our ready-to-eat Salmon Wellington from Simply Good Pies.
Recipe adapted from Waitrose
$99.00
For one of each item
$99.00
For one of each item