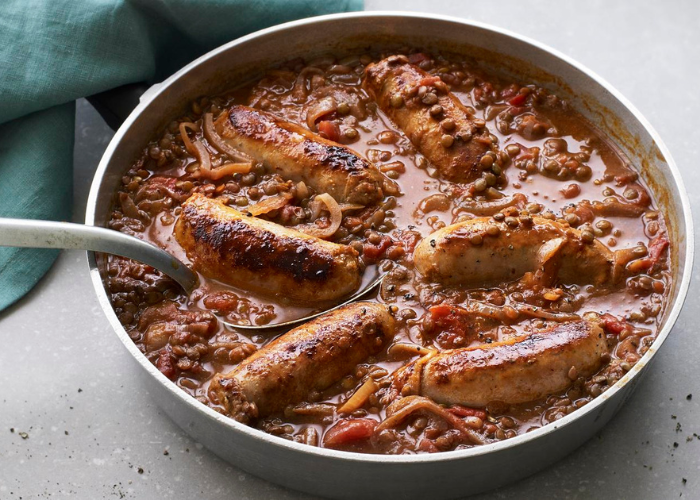 Serves 4 | Time Required: 1 hour
INGREDIENTS
METHOD
Heat one tablespoon of the oil in a large, deep frying pan or shallow casserole and fry the sausages over a medium heat for 6–8 minutes, or until lightly browned on all sides. Transfer to a plate and return the pan to the heat.

Add the remaining oil and onion and gently fry for 4–5 minutes, or until softened and lightly browned, stirring regularly. Add the tomatoes, herbs and lentils, crumble over the stock cube and add the red wine (or the equivalent extra stock).

Cover loosely with a lid and bring to a gentle simmer. Cook for 15 minutes, stirring occasionally. Return the sausages to the pan and cook for 10–15 minutes, or until the lentils are tender and the sausages cooked, stirring regularly. Add a little extra water if needed.

Serve with lots of freshly cooked green leafy vegetables, or warmed, crusty bread.
Recipe and Image Credit: BBC
$17.00
For one of each item
$17.00
For one of each item