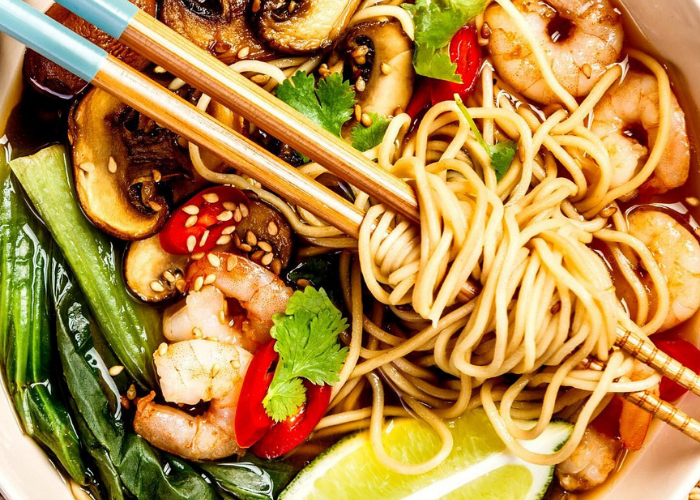 Try out this guilt-free and flavourful recipe, made with thin egg noodles that only have half the carbs. 
Serves 2 
Ingredients
BROTH
3 cups Our Very Own Chicken Stock
2-3 garlic cloves, smashed
1.5cm ginger, sliced into 3 bits
From Your Pantry
1 1/2 tbsp Chinese rice wine
1 1/2 tbsp Tamari
1/2 tsp toasted sesame oil

TOPPINGS AND NOODLES
150g cooked 
prawns
 (or shredded
chicken breast
) 
2 rolls of
UPGRAIN® Thin Egg Noodles (Low Carb)
2 bunches of baby bok choy, cut and blanched
200g
white mushrooms
Serve with
lime
wedge, sliced chili, sesame seeds &
coriander
Method 
Bring broth ingredients in a saucepan to boil over high heat with the lid on.
Once boiling, reduce heat to medium-low, and simmer for additional 10 minutes.
In the meantime, prepare your vegetables and protein. Set aside.
Cook the noodles using the instructions printed on the pack and place them in a serving bowl.
Add your toppings and garnishes.
Ladle over soup and serve with cut chili, coriander, lime wedge and sesame seeds. Enjoy!
Recipe and Image Credit: UPGRAIN
$65.10
For one of each item
$65.10
For one of each item