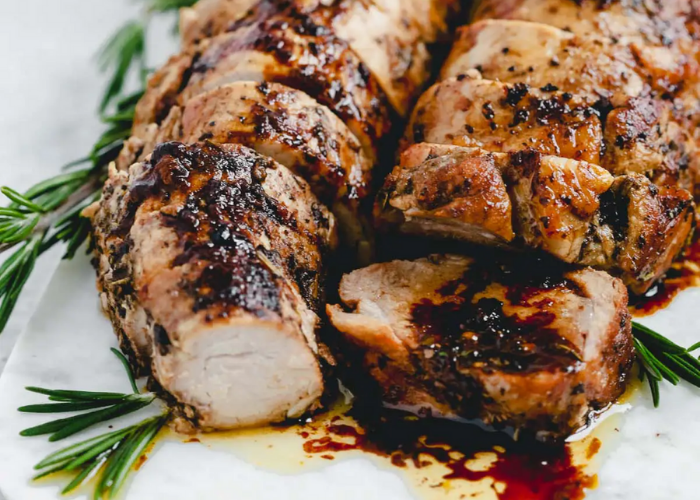 Roast pork tenderloin with a savory balsamic glaze that will look so elegant on your dinner table.
Serves 6
INGREDIENTS
700g English Pork Tenderloin
3 tablespoons butter
3 cloves garlic – minced
2¼ tablespoons Balsamic
¾ tablespoons dried herb mix – basil, Italian seasoning, thyme
Garnish with rosemary 
From Your Pantry
Salt and fresh black pepper
1½ tablespoons Extra Virgin Olive Oil
METHOD
Preheat oven to 175°C.

Rinse and pat dry pork tenderloin, and then season with salt and pepper.

Heat olive oil in an oven-safe skillet on medium-high heat. Heat for about 1 minute. Sear the pork loin on the sides until a brown crust forms. It should be 1 minute each side. Set aside.

Remove the pan from the heat and add butter and garlic. Stir for about 30 seconds.

Add balsamic and all the dried herb mix. Stir the sauce for 1 minute or until the butter is completely melted.

Bring the pork tenderloin back to the skillet and spoon some sauce over it.

Cover the pork tenderloin with foil and roast for 30 minutes.

Remove foil, spoon more sauce on top of the pork loin, cover it again with foil and cook for 30 minutes more or until it gets the interior temperature of 63°C.

Remove from oven, cover it with foil to let it rest for about 15 minutes.

Slice thin and garnish with rosemary.
$65.40
For one of each item
$65.40
For one of each item