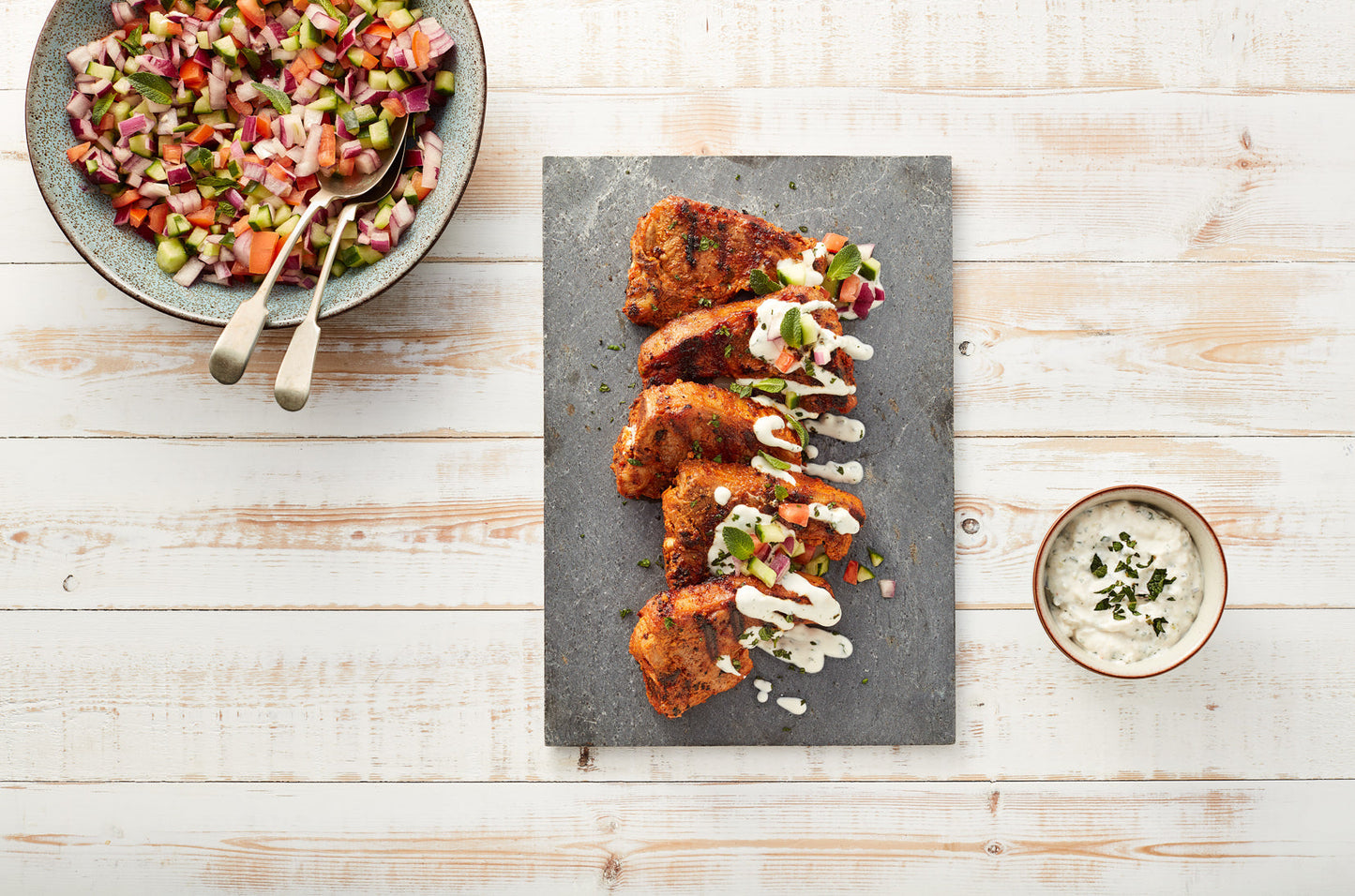 A mouthwatering take on one of my favourite cuts of lamb. 
Ingredients
8
Welsh Lamb Loin Chops
Rustic White Bread
 For marinade
150g natural yogurt
4
Garlic cloves
, crushed
2.5cm fresh
ginger
, grated
1tbsp paprika
1tbsp ground cumin
2tsp garam masala
1tsp mild chilli powder
1
lemon
, rind and juice (keep rind for salad)
 For salad
1
red onion
, finely diced
2 large
tomatoes
, finely diced
½
cucumber
, finely diced
Handful chopped mint
Lemon
 rind
For sauce
Natural greek yoghurt
1 tablespoon sweet chilli sauce
1
lime
, zest and juice of ½ lime
Handful chopped mint
Method
In a large bowl mix all the ingredients for the marinade, stirring well. Add the chops and coat thoroughly. Cover and leave in fridge for at least 2-4 hours.
Remove the chops from the fridge 30 minutes prior to cooking.
Make the salad by mixing all the ingredients together and put in serving bowl.
To make the dip, just stir all the ingredients together and place in small dish.
The Welsh Lamb chops can be cooked in the oven, grilled, pan fried – ideally on a griddle pan or on the BBQ. To cook, scrape a little of the marinade off the chops, lightly oil your pan or grill tray and cook for approximately 5-6 minutes each side depending on their thickness and how you like your Welsh Lamb cooked.
Rest for 5 minutes and serve with the salad, dip and warm bread.
Recipe, photo and video credits: Hybu Cig Cymru – Meat Promotion Wales