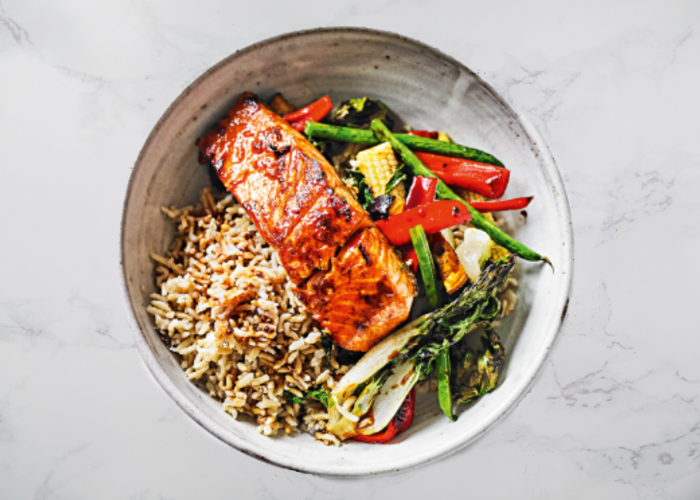 Serves 2

INGREDIENTS

50ml Teriyaki sauce
1 knob fresh ginger, peeled and grated
300g pack Chalk Stream English Rainbow Trout Portions
1 carrot and 1 broccoli, or tender vegetables of your choice, chopped
4 baby bok choy, halved
2 Romano peppers, deseeded and cut into batons 
½ medium aubergine, cut into batons
3 tsp Vasse Virgin Mild & Delicate Cold Pressed Extra Virgin Olive Oil
250g brown rice & quinoa blend
METHOD
Preheat the grill to its highest setting. Mix one-third of the teriyaki with the grated ginger and pour over the trout fillets to marinate. Set aside.
Toss the mixed vegetables, pak choi, peppers and aubergine in 2 tsp of wok oil and another third of the teriyaki sauce. Spread onto a large baking sheet and grill for 10 minutes, turning once, until just tender.
Cook the brown rice and quinoa according to the pack instructions. Heat the remaining oil in a frying pan and sear the trout fillets for 3 minutes on each side until cooked through. Serve with the rice and vegetables, drizzled with the remaining teriyaki sauce.