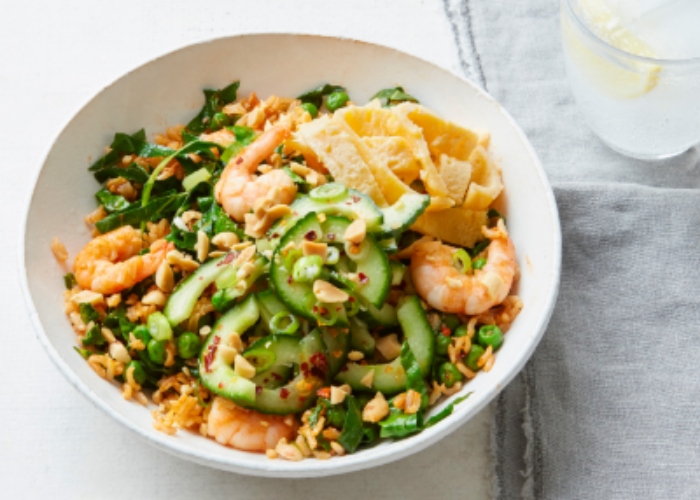 This meal is simple, fragrant and high in protein. If you have some leftover rice, you can use it in this recipe for some comforting, delicious flavours.
Serves 2
INGREDIENTS
150g Vietnamese Tiger Prawns
2 tsp vegetable oil
2 Eggs, beaten
125g spring greens, finely shredded
100g basmati brown rice, cooked and cooled
100g frozen peas
1 Telegraphic Cucumber 
2 salad onions, thinly sliced
Pinch crushed chilli flakes
Juice ½ lime
2 tsp kimchi paste
2 tsp Tamari sauce
1 tbsp roasted peanuts, crushed
METHOD
Heat 1 tsp of the oil in a large wok or non-stick frying pan on medium heat. Pour in the egg, tilt the pan so it forms a thin omelette, and cook for about 1 minute until set. Tip out onto a board, roll up, then slice into thin ribbons and set aside.
Heat the remaining oil in the pan, add prawns and spring greens, raise the heat and stir-fry for 2 minutes. Add the rice and peas, and continue to cook for a further 5 minutes or so until piping hot.
Meanwhile, halve the cucumber lengthways and scoop out the seeds. Thinly slice and mix together with the salad onions, chilli and lime juice.
Stir the kimchi paste and soy sauce into the hot rice and divide between bowls. Top with the egg, cucumber salad and crushed peanuts, to serve. 
Recipe and Image Credit: Waitrose