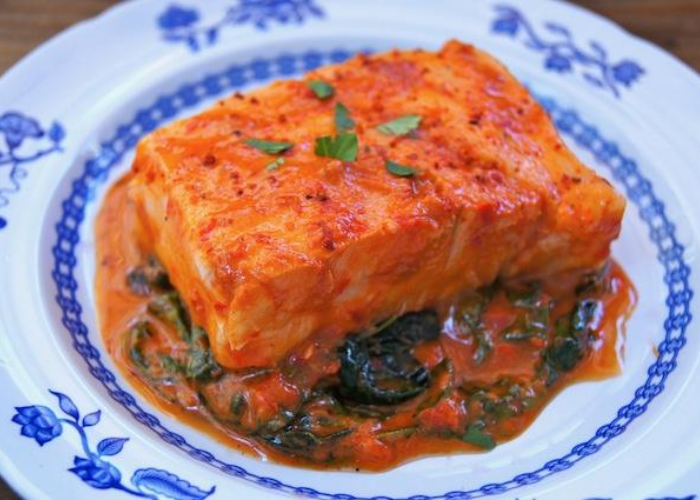 This succulent, buttery and flaky fish goes amazingly well with the sweet red pepper sauce. Paired together, this dish is an explosion of delicious flavours. 
Serves 4 
Ingredients

4 fillets of New Zealand Patagonian Snow Cod
2 cups sweet red capsicum, roughly chopped
½ cup fresh tomato, washed and dried, seeds removed, roughly chopped
¼ cup Extra Virgin Olive Oil
1 tablespoon balsamic vinegar
1 teaspoon garlic, finely chopped
1 teaspoon sweet paprika
½ teaspoon sea salt
½ teaspoon granulated sugar
280g baby spinach, washed and dried, stems removed


Instructions
Preheat the oven to 205°C.
In a blender or food processor fitted with the blade attachment, blend the peppers and tomato with the olive oil, vinegar, garlic, paprika, salt and sugar.
Pour the sauce into a medium to large, oven-proof skillet (cast iron is perfect), and place it over medium-high heat.
Add the spinach and cook until it's completely wilted, about 2 minutes. Remove the pan from the heat.
Season both sides of the fillets with sea salt and freshly ground black pepper. Then add them to the pan, being sure to coat both sides with the sauce.
Place the pan in the preheated 400°F oven and cook just until the fillets are cooked through -- it should still be translucent in the center, 7 to 10 minutes.
Serve immediately.
Recipe and Image Credit: Cooking on the Weekends