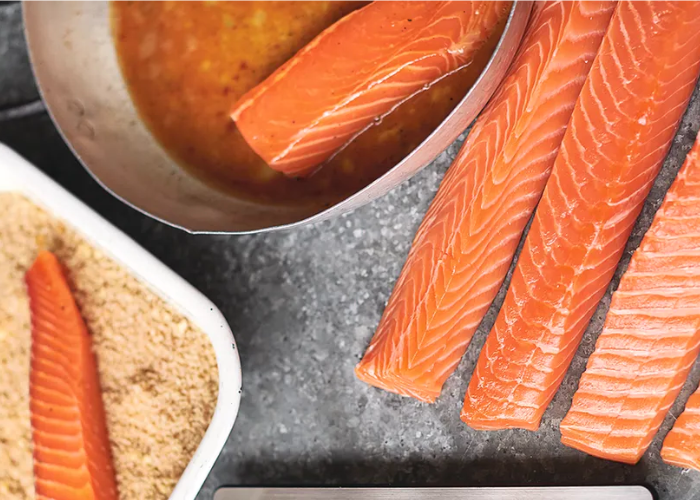 The perfect family favourite to turn everyday fish into a delicious, healthy treat. 

Serves 4
INGREDIENTS
1 1kg Mt. Cook Alpine New Zealand Salmon Whole Side Skin-on, skin removed (or 4 packs of Mt. Cook Alpine New Zealand Salmon Portions Skinless)
100g plain flour
2 large eggs
200g wholemeal bread
30g cheddar cheese
2 teaspoons sweet smoked paprika
Extra virgin olive oil

For the dressing:
2 tablespoons olive oil
2 tablespoons tamari
Juice of ½ lemon
⅛ teaspoon chilli flakes
Sea salt and freshly ground black pepper


METHOD
Cut the fish into 10 portions. They won't all be uniform in size, which is fine. A good way is to cut the side lengthways about 3cm thick, then into chunks from that.
Sprinkle the flour across a plate. In a shallow bowl, whisk the eggs with the paprika and a pinch of sea salt and black pepper.
Tear the bread into a food processor, grate in the cheese, add 2 tablespoons of oil, season with sea salt and black pepper, and whiz until you have breadcrumbs (see below for some exciting addition ideas), then tip into a baking tray.
Turn each fish portion in the flour until evenly coated, dip it in the egg mixture, letting any excess drip off, then turn it in the breadcrumbs until well coated all over. Transfer to a baking tray lined with greaseproof paper, layering them up between sheets of paper until all of the fish is coated.
Cook right away or freeze in the tray – once frozen, you can pop them into a tub or sandwich bags for easier storage.
To cook, place however many jumbo fish fingers you need on a roasting tray and cook in a preheated oven at 200°C/400°F/gas 6 for 15 minutes from fresh, or 20 minutes from frozen, or until golden and cooked through.
Recipe & image credit: Jamie Oliver