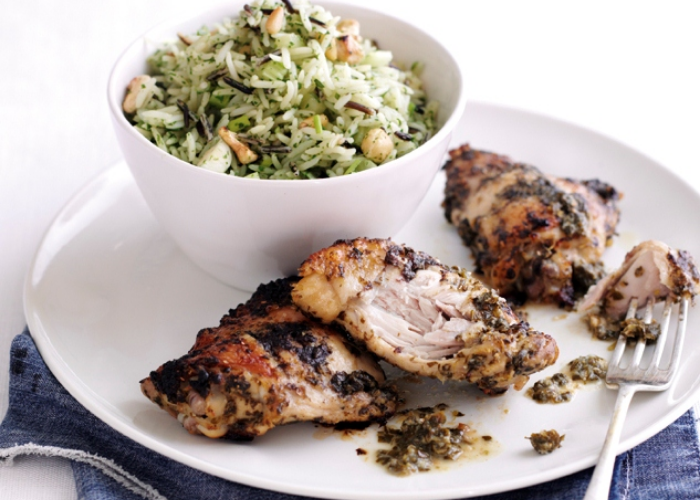 Serves 4
INGREDIENTS
For the chicken
8 organic chicken thighs, bone in, skin on
1 tsp chopped fresh ginger
4 cloves of garlic, roughly chopped
Zest and juice of 2 limes


From Your Pantry

Handful of fresh mint leaves, chopped
Freshly ground black pepper
For the rice
225g cooked rice
450ml Our Very Own Chicken Stock
4 spring onions, chopped
2 sticks of celery,  sliced
Handful each of fresh coriander, mint and parsley leaves
NZ Raglan Coconut Yoghurt, Natural Greek Style, to serve
From Your Pantry
Handful of cashew nuts, toasted and roughly chopped
Handful of pine nuts, toasted
Salt and freshly ground black pepper
Extra Virgin Olive Oil
METHOD
Using a grinder, processer or pestle and mortar, make a paste with the coriander seeds, ginger, salt pepper and garlic. Add 1 tbsp vegetable oil and process or pound again. If using a processor, tip the paste into a small bowl and then stir in the mint, coriander and lime zest and juice.
Slash each chicken thigh twice through the skin and into the meat. I use scissors for this. Put the thighs into a bowl or plastic bag and smear all over with the marinade. Refrigerate overnight, turning once if you remember.
Remove the chicken from the fridge at least an hour before cooking. Preheat the oven to 220 degrees Celcius, gas 7.
Spread the thighs out in a roasting tin or ovenproof dish, skin side up, reserving the remaining marinade. Scatter some salt over the top and cook for 35 minutes until golden brown and charred in places.
Check the chicken after 25 minutes and if browning too fast, either reduce the temperature or cover loosely with a piece of foil for the final 10 minutes. If not browning, pour off the liquid into the reserved marinade and return to the oven for the final 10 minutes. Remove from the tin and keep warm.
Meanwhile, put the rice into a saucepan with the stock and ½ tsp salt. Bring up to the boil, stir, cover and simmer very gently for 15-20 minutes or until all the liquid has been absorbed.
Put the spring onions, celery, cashews and pine nuts into a mixing bowl, add the rice and mix everything together well. 
Chop the herbs finely - I do this in a herb chopper as when chopped this way they turn the rice vivid green - add to the rice and mix well. Moisten with a little olive oil. Finally, check the seasoning - it should be flavoursome.
Remove any badly charred bits from the roasting tin and skim off any fat. Add the reserved marinade to the cooking juices and a little extra water. Bring up to the boil, scraping the bits off the bottom and bubble for 2-3 minutes. Check the seasoning, pour into a jug and serve with the chicken, nutty green rice and a bowl of natural yoghurt.
$38.30
For one of each item
$38.30
For one of each item