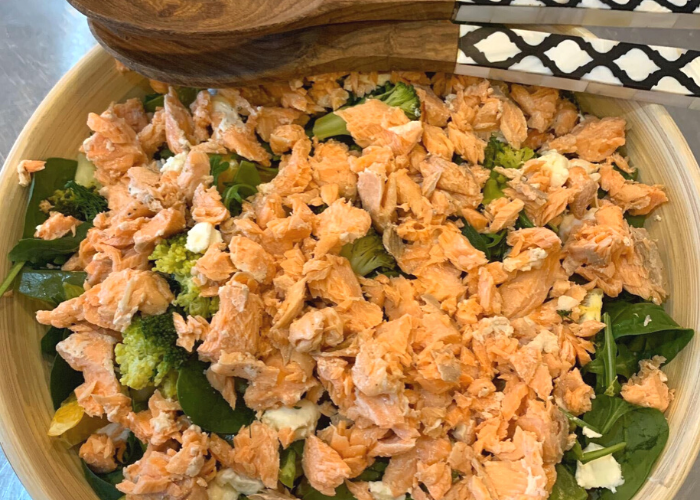 Serves 6
INGREDIENTS
3 x Mt. Cook Alpine New Zealand Salmon Individual Portion Skin On, skin removed
Sea salt and pepper to season
1/2 a packet of wild rockets leaves/arugula
1/2 a packet of spinach leaves
1-2 oranges, cut into segments, all piths removed
1 bunch thin asparagus, blanched in hot water and allowed to cool
1 punnet sugar snap peas
1-2 lemons, juiced and zest of 1
The seeds of 1 pomegranate, pith carefully removed and discarded
METHOD
Coat salmon in a little olive oil and sprinkle with sea salt and pepper.
Face salmon skin side down on foil and cook in the oven at 180 degrees Celcius for 15 minutes or so (depending on how cooked you like it).
Prepare rocket, spinach, orange, asparagus, sugar snaps, lemon and pomegranate and arrange into a bed of salad on a large serving plate. Break salmon up and scatter over the salad as well as the dill. Top with goat's cheese and drizzle olive oil. Add cracked pepper to taste.