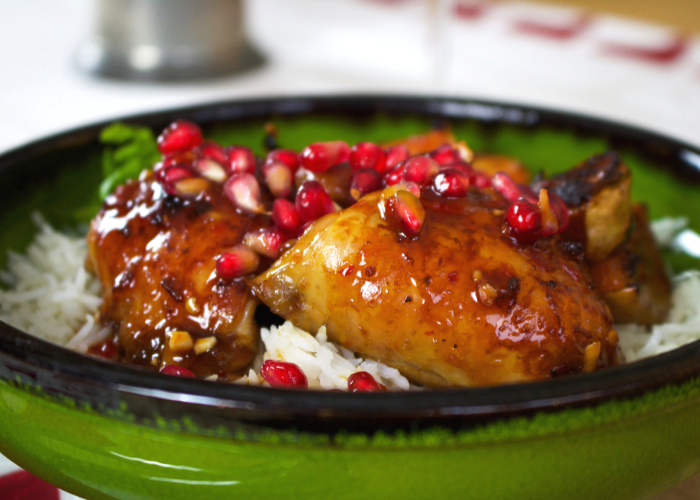 Serves 4
INGREDIENTS
5 heaped tablespoons of Thai sweet chilli sauce
1/4 cup of pomegranate juice
1/4 cup tamari 
1 inch piece of ginger peeled and grated
1 clove garlic, chopped
4 Free-Range Chicken Breast Fillets
1 Butternut Pumpkin seeded and sliced into halves
1 tablespoon of Extra Virgin Olive Oil
1 tablespoon of Honey
Salt and pepper
Arils (seeds) from 1 pomegranate
METHOD
Preheat your oven to 220 degrees C for 10 minutes, then adjust to 200 degrees.
To make the pomegranate sticky glaze combine the sweet chilli sauce, pomegranate juice, tamari, ginger and garlic.
Next gently toss the squash with olive oil, honey, salt and pepper in a bowl.
Place the chicken and squash on a baking sheet with the chicken at one end and the butternut squash at another. Cover the chicken with the sticky sauce, but make sure to leave a small amount for serving.
Place the chicken and squash in the oven and cook for 25 minutes until the chicken is cooked through and the squash is soft and tender.
Remove from the oven and sprinkle over the pomegranate arils over the chicken. Serve the chicken and squash over a bowl of rice drizzled with the remaining reserved sticky sauce. Garnish with extra pomegranate arils.
Recipe adapted from: Sutton Hoo