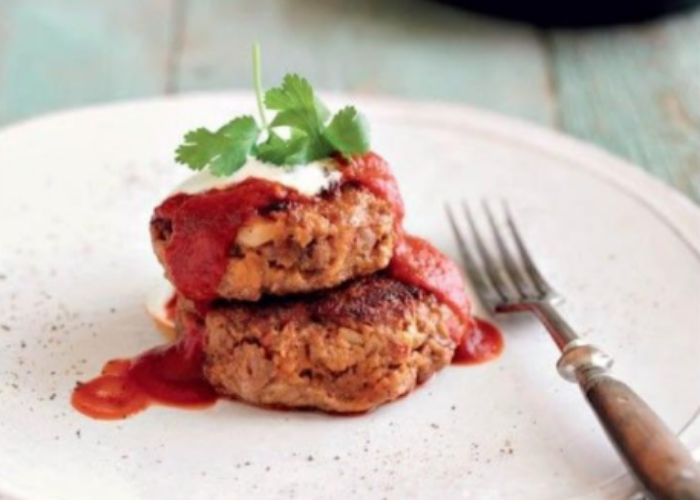 Serves 4
INGREDIENTS
450g cooked New Zealand Grass-fed Angus Beef Mince
1 small onion, very finely chopped
2 cloves of garlic, crushed
1 tbsp harissa paste
50g fresh breadcrumbs
1 tsp salt
Freshly ground black pepper 
2 Eggs, beaten
Vasse Virgin Mild & Delicate Cold Pressed Extra Virgin Olive Oil
NZ Raglan Coconut Yoghurt, Natural Greek Style and fresh coriander to serve
For the tomato sauce
A glug of Vasse Virgin Mild & Delicate Cold Pressed Extra Virgin Olive Oil
250ml passata plus 100ml water
1 tbsp sun-dried tomato puree
Large pinch of dried oregano
Salt and freshly ground black pepper
½ tsp sugar
METHOD
Put all the sauce ingredients into a saucepan, bring up to a boil and simmer for 5-10 minutes.
In a large bowl, mix the first eight ingredients together well. This is best done with your hands. Be generous with the black pepper and taste to make sure the mixture is well seasoned. Divide roughly into eight and shape into rounds in your hands.
Heat a thin layer of olive oil in a frying pan, add the rissoels, press down a little with a fish slice, and fry until golden brown. Turn over, lower the heat and cook slowly for a further 10 minutes or until heated all the way through and well browned. You may need to do this in two batches, depending on the size of your frying pan. 
Serve with the tomato sauce, a dollop of Greek yoghurt and some roughly chopped coriander on top of each rissole.
Recipe and image credit: Jane Lovett