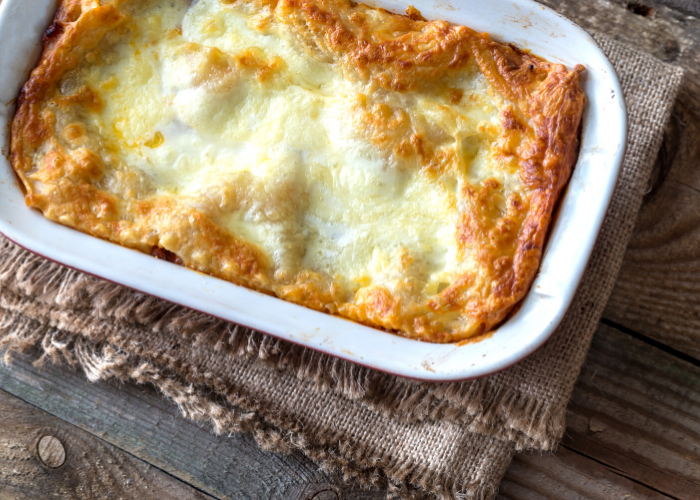 Serves 6
INGREDIENTS
8 to 10 sheets of lasagne pasta
50g Italian Parmigiano Reggiano DOP, grated
For the base sauce
2 onions, finely chopped
500g New Zealand Grass-fed Angus Beef Mince
Freshly ground black pepper
3 tins of chopped tomato
1 tsp garlic puree
2 tsp Antonella Finely Chopped Tomatoes
1½ tsp balsamic vinegar
175ml ILauri Salto Sangiovese (optional) 
1-2 tsp tamari
For the white sauce
50g butter
60g plain flour
800ml Hokkaido Fresh Milk
Salt and pepper
METHOD
Add tinned tomatoes, garlic and tomato puree in a pan. Give the mixture a good stir. Add the balsamic vinegar and red wine. Stir and replace the lid, allowing the pan to simmer over gentle heat for 45 minutes or so, stirring every 15 minutes. Leave the lid on the pan half-on to help it reduce.
In a separate pan, melt the butter over low heat. Add the flour to the butter, stirring all the time (a silicone whisk is preferred) until it has formed a roux and is smooth. Stir this roux and cook it for 30 seconds.
Add the milk, one splash at a time - stir and wait until the flour and butter mixture has absorbed it before adding the next installment. Add more milk and stir continuously. Stir in the remaining milk in larger quantities as necessary.
After 45 minutes when the base sauce is rich brown in colour, check the seasoning. If salt is required, add a teaspoon of tamari in place of regular salt. 
Preheat the oven to 180 degrees Celcius.
Add a third of the base sauce to the bottom of a medium-sized ovenproof dish (18cm by 25cm is perfect).
Cover the mince with a single layer of lasagne sheets. Try not to overlap the sheets too much, but do make sure they sit nice and close to each other. If there's an awkward space that can't accomodate a full sheet, just snap one to roughly the right size.
Cover this pasta layer completely with a second layer of mince. Top the mince with half of the white sauce. Place a layer of lasagne sheets on top of the white sauce.
The last third of your mince goes on next, topped off with the final half of white sauce. Sprinkle with the grated parmesan and place it in the oven for 30 minutes. The top should be lightly browned and bubbling. Serve at once.