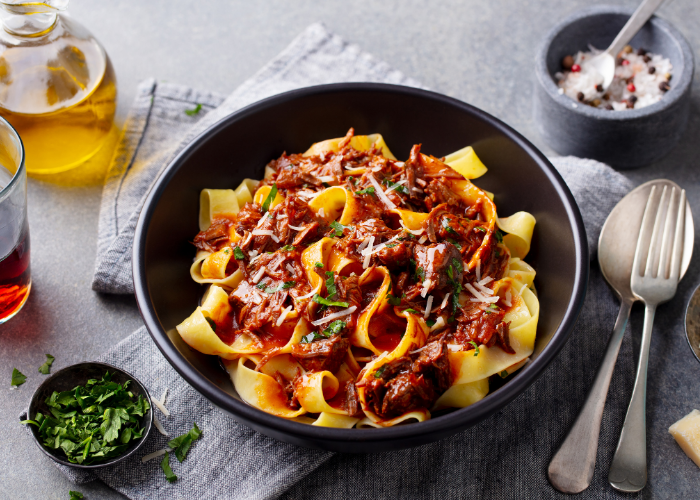 Hearty and cosy, this recipe is sure to warm your hearts and tummies. 
Serves 6
INGREDIENTS
1.2kg New Zealand Grass-fed Angus Diced Beef
4-5 tbsp Extra Virgin Olive Oil
2 onions, finely chopped
3 carrots, finely chopped
4 celery sticks, finely chopped
4 garlic cloves, sliced
3 tbsp tomato purée
400ml red wine
2 rosemary sprigs
2 bay leaves
2 x 400g cans chopped tomatoes
5 tsp Beef Bone Broth Concentrate - Natural in 500ml hot water
Parmesan, grated, and pappardelle, to serve
METHOD
Heat the oven to 160 C and season the beef all over.
Heat 1 tbsp oil in a flameproof casserole over a medium-high heat and brown the beef until dark, about 15 mins, in batches if you need to, using 1 tbsp oil for each batch. Drain the beef in a colander to remove the fat while you cook the rest.
Wipe out the pan with kitchen paper, then add about 2 tbsp oil, the onions, carrots, celery and garlic with a pinch of salt and cook for 8-10 mins over a low-medium heat.
Stir in the tomato purée and cook for a further 3 mins.
Add the wine, herbs, tomatoes and stock, season and bring to the boil, stir the beef back into the sauce and reduce to a simmer.
Cover and put in the oven for 2 hrs 30 mins, then remove the lid, stir and put back in the oven, uncovered, for 30 mins.
Stir or use a fork to roughly shred the beef, and season. Serve now, or chill until serving – it tastes better if made a day ahead.
When ready to serve, gently reheat the ragout over a medium heat.
Cook the pasta in a large pan of salted water for 3 mins, drain then tip into the ragout, toss together with some of the parmesan and leave for 1 min.
Ladle the pasta into bowls, scatter over the remaining parmesan and serve.
Recipe Credit: BBC