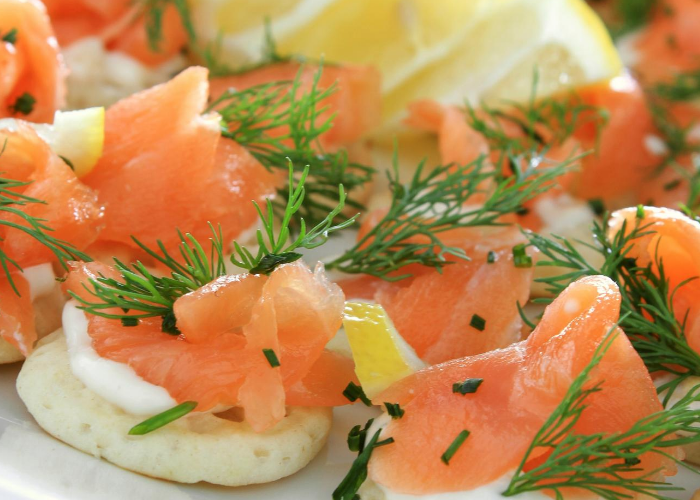 Makes about 48 small cocktail bites
INGREDIENTS
200g Aoraki (Mt. Cook Alpine) New Zealand Cold Smoked Salmon
85g plain flour
30g buckwheat flour
1 level teaspoon bicarbonate of soda
1 level teaspoon cream of tartar
A pinch of salt
1 egg, beaten
225-300ml milk
2 teaspoons butter, melted
A pinch of sugar
Vegetable oil
Crème fraîche
Dill and lemon wedges for garnish 
METHOD
Put both flours, bicarbonate of soda, cream of tartar and salt into a food processor. In a jug, beat together the egg, milk, butter and sugar.
With the processor running, gradually pour some of this mixture onto the flour until it starts to form a thick, smooth, lump-free paste. Scrape around the sides of the bowl with a spatula to release any flour that is stuck and process again briefly.
Add more of the milk mixture with the machine running, but don't add it all at once as it may not all be needed. The finished butter should be as thick as double cream. Pour into a bowl and let it stand for at least 30 minutes.
Heat a pancake or frying pan and grease with an oiled piece of kitchen towel. Thin the batter if necessary.
Drop teaspoonfuls of the batter into the pan, 3 or 4 at a time, depending on the size of the pan, leaving them space to expand a little. When bubbles appear on the top, flip over with a palette knife and cook for a few minutes until the underside is golden brown. If serving straight away, then keep the blinis warm in a napkin or layers of kitchen towel. Repeat with the rest of the batter, wiping the pan with oil between batches.
Serve the blinis with a ribbon of smoked salmon on top, followed by a dollop of crème fraîche, garnished with dill and lemon wedges on the side.