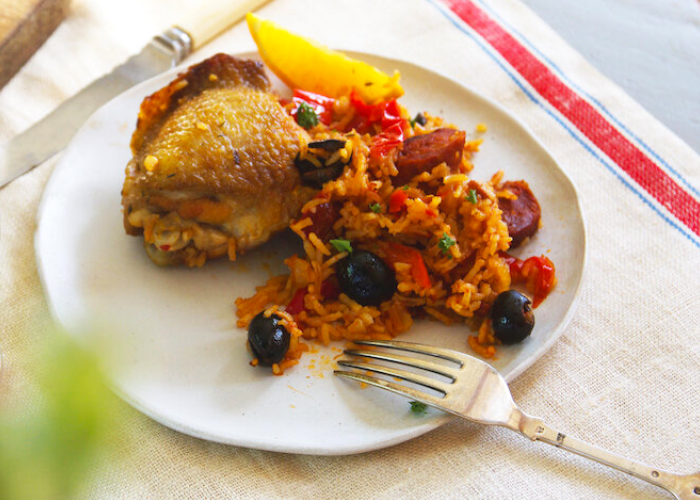 Serves 4
INGREDIENTS
4 Free-Range Chicken Breast Fillets
275ml Chicken Stock
2 large red peppers
2 medium onions
50g sun-dried tomatoes in oil
2-3 tablespoons Vasse Virgin Rich & Robust Olive Oil
150g chorizo sausage, skinned and cut into 1 cm slices
2 cloves of garlic
Basmati rice measured to the 225 ml level in a measuring jug
1 level tablespoon sun-dried tomato paste
½ level teaspoon hot paprika
1 level teaspoon chopped fresh thyme
170 ml Pinot Gris
½ large orange, cut into wedges
50g black olives
Salt and pepper
METHOD
Season the chicken with salt and pepper and set to one side.
Slice the onion and red peppers into strips. Drain the dried tomatoes, wipe them dry with kitchen paper and then cut into 1 cm pieces.
Next heat 2 tablespoons of olive oil in a casserole dish and, when it is fairly hot, add the chicken pieces – two or three at a time – and brown them to a golden colour on both sides. As they brown remove them to a plate lined with kitchen paper.
Now add a little more oil to the casserole, with the heat slightly higher than medium. As soon as the oil is hot, add the onion and peppers and allow them to brown a little at the edges, moving them around from time to time, for about 5 minutes.
After that, add the chorizo, sun-dried tomatoes and chopped garlic and toss these around for a minute or two.
Stir in the rice and, when the grains have a good coating of oil, add the sun-dried tomato paste, paprika and chopped thyme.
Pour in the stock and wine, and add some seasoning. As soon as everything has reached simmering point, turn the heat down to a gentle simmer. Then place the chicken gently on top of everything (Top Tip: it's important to keep the rice down in the liquid to let it cook)
Finally, place the wedges of orange in among the chicken and scatter with the olives. Cover and cook over a low heat or in a pre-heated oven at 180°C for about 1 hour until the rice is cooked.
Recipe adapted from: Sutton Hoo