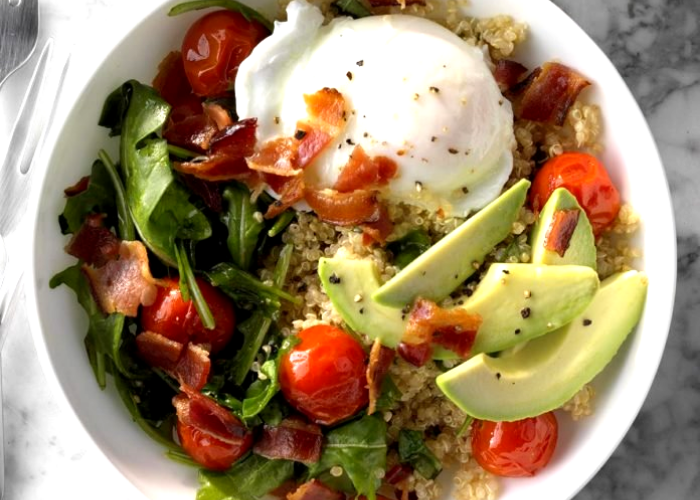 Serves 4
INGREDIENTS
1 cup quinoa, rinsed
4 tablespoons Vasse Virgin Mild & Delicate Cold Pressed Extra Virgin Olive Oil, divided
2 tablespoons minced fresh basil
2 tablespoons white wine vinegar, divided
1 tablespoon lemon juice
4 Eggs
230g Red Grape Tomatoes
3 packs Fresh Wild Rocket
1  Hass Avocado, peeled and sliced
4 strips Wicks Manor English Bacon, cooked and crumbled
METHOD
Prepare quinoa according to package directions. Combine 3 tablespoons olive oil, basil, 1 tablespoon vinegar and lemon juice. Add to cooked quinoa; stir to combine.
Place 2-3 inches of water in a large skillet with high sides; add remaining vinegar. Bring to a boil; adjust heat to maintain a gentle simmer. Break 1 cold egg at a time into a small cup; holding cup close to surface of water, slip egg into water. Cook, uncovered, until whites are completely set and yolks begin to thicken but are not hard, 3-5 minutes. Using a slotted spoon, lift eggs out of water. Keep warm.
In a large skillet, heat remaining oil over medium heat. Cook tomatoes for 8-10 minutes until they begin to release their juices. Add rockets; cook and stir for 1-2 minutes just until rockets are wilted, 1-2 minutes.
To serve, divide quinoa evenly among 4 bowls. Add grape tomatoes, rocket, avocado slices and crumbled bacon. Top each with a poached egg.
Recipe and image credit: Taste of Home