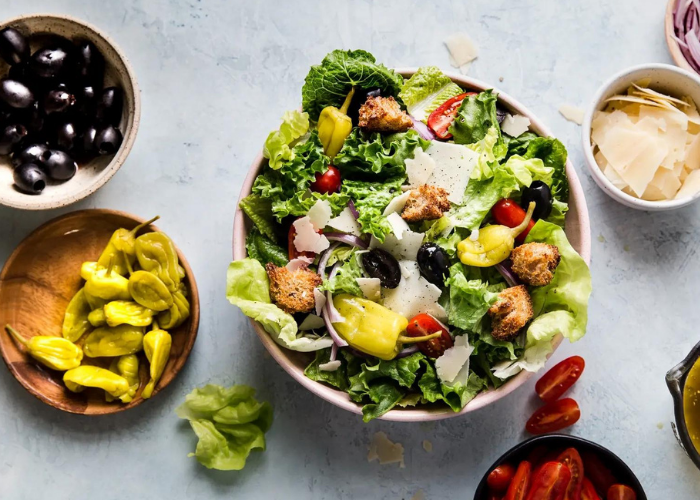 This simple Italian salad fits perfectly with any pasta dish and pairs well with any Italian mains.
Serves 6 | Time Required: 15 mins
INGREDIENTS
SALAD

1 head romaine lettuce, roughly chopped
1/2 medium red onion, thinly sliced
1/2 cup grated Parmigiano Reggiano
1 cup Peperoncini/ red chilli, whole or sliced
1/2 cup black olives, whole or sliced 
2 cups red cherry tomatoes

From Your Pantry

Freshly ground pepper, to taste
Croutons, store bought or homemade
ITALIAN DRESSING

From Your Pantry

1 tsp garlic powder
1 tsp dried oregano
1 tsp dried basil
1/2 tsp sea salt
1/2 cup extra-virgin olive oil
2 tbsp red wine vinegar
METHOD
To make the dressing place all the ingredients in a jar with a tight fitting lid. Shake vigorously until all ingredients are combined. Store in refrigerator for a week. Shake before each use.
To make the salad, place all ingredients in a large salad bowl. Drizzle with Italian dressing and toss to combine.
Recipe and Image Credit: The Modern Proper
$23.30
For one of each item
$23.30
For one of each item