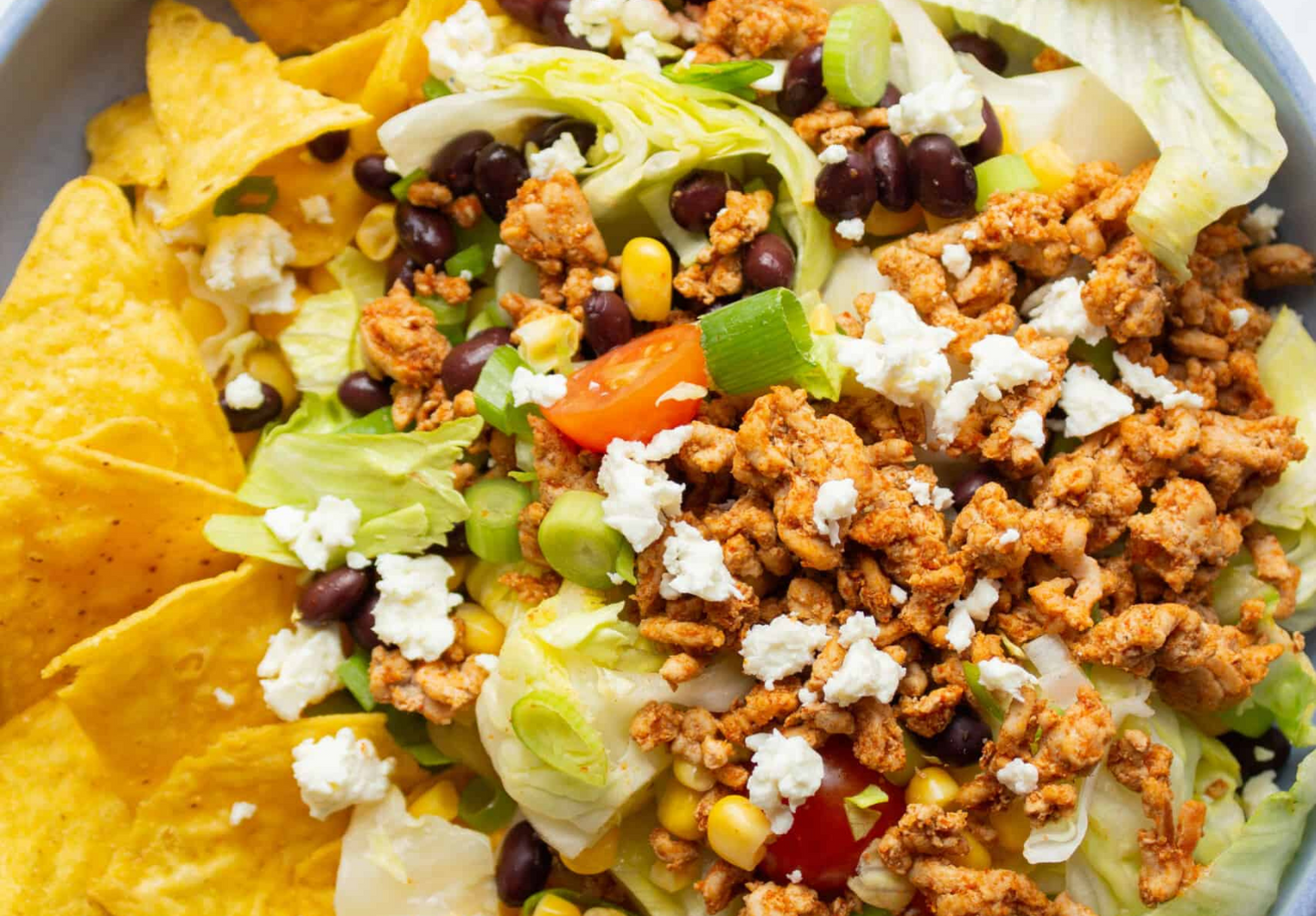 A yummy mixture of healthy ingredients with a twist. It's the perfect meal prep for lunch that you can have ready in a snap.
Serves 4
INGREDIENTS

1-2 romaine lettuce, washed and chopped
500 g pork mince
400 g/1 can (240g drained weight) of organic black beans, rinsed
180 g (1 large bag) tortilla chips
200 g feta, crumbled/grated
300 g corn or sweetcorn
250 g red cherry tomatoes, halved
50 g spring onion, thinly sliced
1 tbsp rapeseed oil
1 tsp smoked paprika
1 tsp cumin
1 tsp onion salt
1 tsp garlic granules
METHOD
Preheat a large non-stick frying pan over a high heat, coated with rapeseed oil/olive oil (1 tbsp). Add the mince into the pan and break apart (roughly) with a spatula. Leave to brown on a high heat for five minutes.Season with salt and pepper.
After this time, the mince should have taken on some nice colour. Break apart properly now with your spatula and stir, adding all of the spices and onion/garlic granules. Continue to cook for another 3 minutes and set aside to cool.
Once cooled, divide the mince into 5 tall meal prep containers. Next, add the cherry tomatoes, black beans, sweetcorn and spring onion.
Next, divide the lettuce into each container. Place a piece of parchment paper on top of the lettuce to act as a barrier between the lettuce and the tortillas. Add the tortillas and seal the container.
When it's time to eat, remove the tortilla chips and add to the side of a bowl. Pour the salad into the bowl and crumble over some feta. Enjoy!
 Recipe and Image Credit: Beat The Budget
$26.10
For one of each item
$26.10
For one of each item