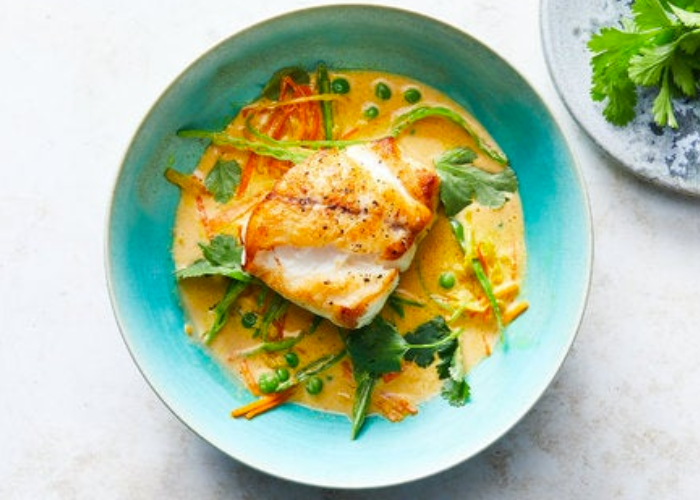 Serves: 4
Ingredients
4 grouper fillets (about 6 ounces each), skin removed
1 spring onion (or the white portion of 1 large leek), trimmed, cut into 2-inch segments and julienned (about 1 cup)
1 tablespoon minced fresh ginger
1 tablespoon minced fresh turmeric or 1 teaspoon dried turmeric
1 small carrot, peeled and julienned
½ cup snow peas, julienned
½ cup fresh or frozen green peas
1 (13-ounce) can full-fat coconut milk
1 tablespoon red curry paste, plus more if needed
¼ cup cilantro leaves, for garnish
From Your Pantry
Kosher salt and black pepper
4 teaspoons olive oil
Method
Heat oven to 225 degrees.
Season the fish generously with salt and pepper. Heat 2 teaspoons oil in a large skillet over medium-high. When the oil is hot, add the fish and cook until browned on both sides, about 3 minutes per side. Transfer the fish to a baking sheet and place in the oven to keep warm while you prepare the rest of the dish.
Add the remaining 2 teaspoons oil to the skillet. Add the spring onion and cook, stirring frequently, until lightly browned, 2 to 3 minutes. Add the ginger and turmeric and cook, stirring frequently, 1 minute. Add the carrot, snow peas and green peas and cook, stirring occasionally, until crisp-tender, 3 to 4 minutes. Transfer the vegetables to a bowl and cover to keep warm.
Add the coconut milk and 1 tablespoon curry paste to the skillet, bring to a simmer over medium, then reduce the heat to medium-low and simmer until liquid is reduced by about one-third, about 6 minutes. Whisk in more curry paste according to taste, if desired. Stir in the cooked vegetables and heat until warmed, about 1 minute.
Divide the fish among shallow bowls. Spoon the sauce and vegetables over the fish, garnish with cilantro and serve.
Recipe credits: NYT Cooking