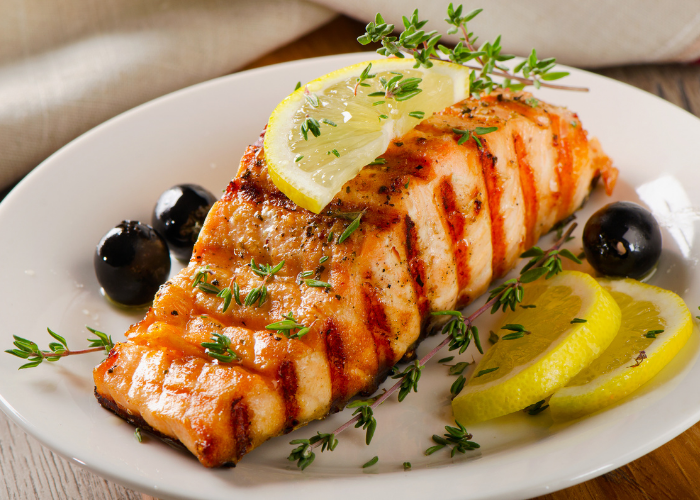 INGREDIENTS
4 pieces of Chalk Stream English Rainbow Trout Portions
1 tbsp fresh herbs, finely chopped - thyme, oregano, parsley, whatever you love!
3 tbsp lemon juice freshly squeezed
2 tbsp white wine
2 tbsp butter softened 
2 tbsp fresh parsley chopped
From Your Pantry
2 tbsp 
olive oil
1/4 tsp 
salt
 to taste
4 
garlic cloves
chopped finely 
METHOD
Season the trout with Italian fresh herbs and salt generously.
In a large skillet, heat olive oil on medium heat until heated but not smoking.  Add fish portions skin side up - flesh side down to the hot skillet. Cook the flesh side of the trout for about 3-5 minutes on medium heat, until lightly browned. Flip the fillets over to the other side, skin side down. Cook for another 2-4 minutes on medium heat.
Remove the skillet from the heat and let the fish sit for 5-10 minutes, covered, in the skillet, until flaky and cooked through completely.
After the fish is cooked through, carefully place it on a plate, separating the fish from the skin. Carefully remove or scrape the fish skin off the bottom of the pan, leaving the cooking oils in the pan.
Add chopped garlic, lemon juice, and white wine to the same pan with oil. Cook on medium-low heat for about 1 minute, until garlic starts to soften. Remove from heat. Add 1 tbsp parsley, and butter (off the heat) to the sauce, stirring, until the butter melts and forms a creamy mixture.
Spoon the sauce over the fish, top the fish and sauce with the remaining 1 tbsp of fresh parsley and serve.
Photo credit: Meg Tan
$13.50
For one of each item
$13.50
For one of each item