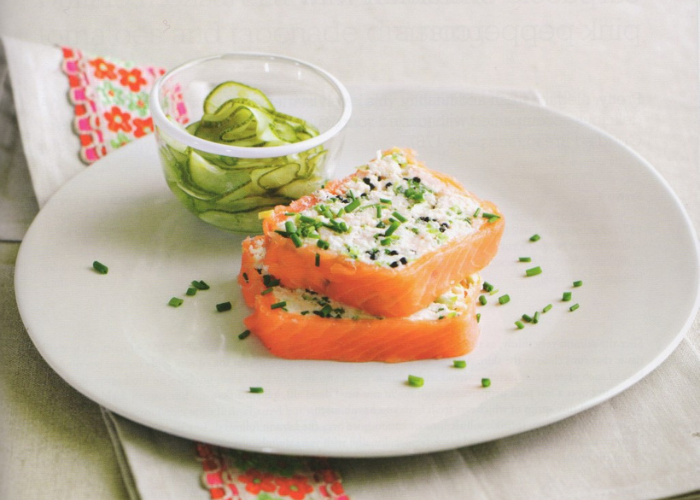 Forget mayonnaise and gelatin, this recipe ingeniously uses mascarpone to create the perfect terrine. This can be made 2 days in advance, perfect for a stress-free starter.
Serves 12-16
INGREDIENTS
340 g Aoraki (Mt. Cook Alpine) New Zealand Cold Smoked Salmon
550 g cooked Vietnamese Tiger Prawns, Tail Off
2 bunches of spring onions, Freely chopped
Juice of 1 lemon
From Your Pantry
4 tbsp snipped fresh chives
Knob of butter
12 drops of Tobasco sauce
1 tsp salt
250 g mascarpone
Freshly ground black pepper
1 x 50g jar of Onuga or Avruga 'caviar', optional
Pickled Cucumber or Watercress to serve
METHOD
Cook the onions in the butter gently until soft but not coloured. Allow to cool.
Wet the inside of a 1.2 litre terrine or loaf tin and line with cling film, then slightly overlapping slices of smoked salmon, leaving a little hanging over the sides to fold back over the top when filled.
Finely chop the rest of the smoked salmon.
In a large bowl beat together the mascarpone and onions.
Stir in the lemon juice, chives, chopped smoked salmon, Tobasco, salt and pepper.
Drain the prawns on paper towel and then squeeze gently in your hands to extract the excess moisture but not to dry them out completely.
Chop briefly in a food processor or by hand. Don't over-do it, they should still be chunky and have some texture.
Mix into the rest of the ingredients.
Check the seasoning. You may like to add some more Tobasco.
Finally, stir in the 'caviar', if using, and spoon into the prepared terrine, pressing down as you go.
Fold the overlapping smoked salmon over the top, cover and chill overnight.
To serve, turn out, remove the clingfilm and slice straight from the fridge.
Decorate with chopped chives or watercress and serve with pickled cucumber.
Recipe credit: Make it Easy Cookbook by Jane Lovett
Image credit:
Christmas Countdown
$98.30
For one of each item
$98.30
For one of each item