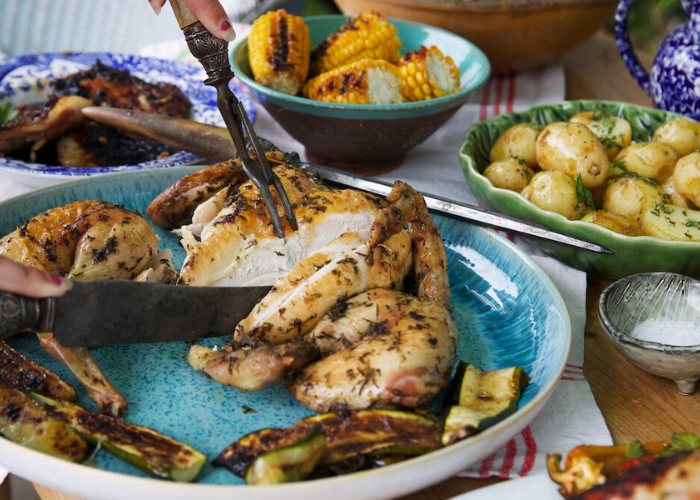 This seemingly impressive yet easy recipe is perfect for serving up at a barbeque with new potatoes, grilled corn and salad.
Serves 4
INGREDIENTS
For the Spatchcock Chicken:
One large Free Range Whole Chicken
Two unwaxed lemons (zest of two and juice of one)
100ml white wine
Fresh thyme (8 sprigs)
Fresh tarragon (1 small bunch)
Fresh rosemary (6 – 8 sprigs)
6 cloves garlic, crushed (optional)
Vasse Virgin Rich & Robust Cold Pressed Extra Virgin Olive Oil
Maldon sea salt
Black pepper
For Salsa Verde:
2 cloves garlic, crushed
1 tablespoon capers
1 tablespoon gherkins
6 anchovy fillets (optional)
2 tablespoons parsley
1 tablespoon mint
1 bunch fresh basil
1 tablespoon tarragon
1 tablespoon Dijon mustard
3 tablespoons red wine vinegar
4-8 tablespoons olive oil (extra virgin)
Salt & pepper
METHOD
First, spatchcock your chicken. Not done it before? You can watch Will's quick video guide.
Put the chicken into a large plastic bag or into a dish that can hold it.
Grate one lemon and rub the zest all over the chicken. Squeeze the juice of the other lemon over the chicken too.
Add three tablespoons of olive oil, the garlic (if using) and about 100ml of white wine.
Season with sea salt and black pepper.
Crush the herbs and rub all over and around the chicken.
Leave to marinade for anything from a couple of hours to overnight.
Cook on a barbecue for about five to ten minutes on each side.
Then move to a gentler spot at the side and cover with a lid.
Cook, turning occasionally for a further 20 – 30 minutes brushing with any excess marinade. Some rosemary dropped onto the hot coals will add to the flavour. Rest for at least ten minutes before serving.
Make the Salsa Verde: Finely chop all the ingredients up to the basil and place in a bowl. Stir in the mustard and red wine vinegar. Stir in the oil slowly until you have a thick consistency. Make it as thick or thin as you like. Season to taste.
Serve with lots of salsa verde drizzled over the chicken. If you are short of time, you don't have to make the salsa verde but instead bruise a few basil leaves with salt, pepper and olive oil and add a dash of Balsamic vinegar use to drizzle over the chicken for serving.
 Recipe and Image Credit: Sutton Hoo