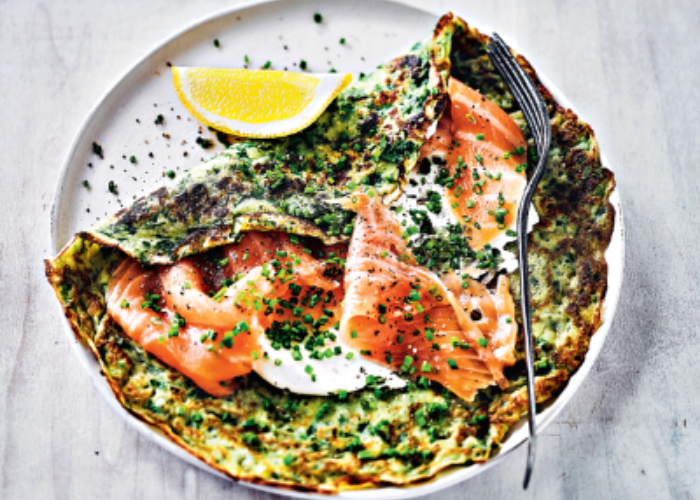 Serves 4
Time required: 30 minutes
 
INGREDIENTS
 
100g plain flour
2 eggs
300ml Hokkaido Fresh Milk
50g butter
50g spinach
Small handful of fresh green herbs (I use coriander, basil and sage)
A pinch of sea salt flakes
1 pack of 200g Aoraki (Mt. Cook Alpine) New Zealand Cold Smoked Salmon
125g Meredith's Australian Marinated Goat Cheese (~3 cubes)
Small handful of chives, chopped
 
METHOD
Melt the butter in a frying or crepe pan that you will fry the pancakes in. Remove from the heat.
Place the pancake batter and all the remaining pancake ingredients into a food processor then add the melted butter. Blitz until the mixture is smooth. Don't worry if there are small pieces of spinach or herbs in the batter – this adds texture to the pancakes.
Heat the frying pan over a medium heat, then test the pan by ladling in a small amount of batter. It should take around 1 minute to brown on the bottom. If it browns too quickly, lower the temperature slightly, and do the opposite if it cooks too slowly and becomes rubbery.
When the pan is at the right temperature, add in a small knob of butter and then pour in a ladleful of batter. Swirl the pan to coat the bottom, then allow the pancake to cook for 1 minute on each side, or until cooked through. Keep covered and warm in a low oven while you fry the rest. The green becomes more vibrant on cooking.
Serve the pancakes warm with smoked salmon, soft cheese and chives. These are best eaten immediately.
Recipe and image credit: Waitrose