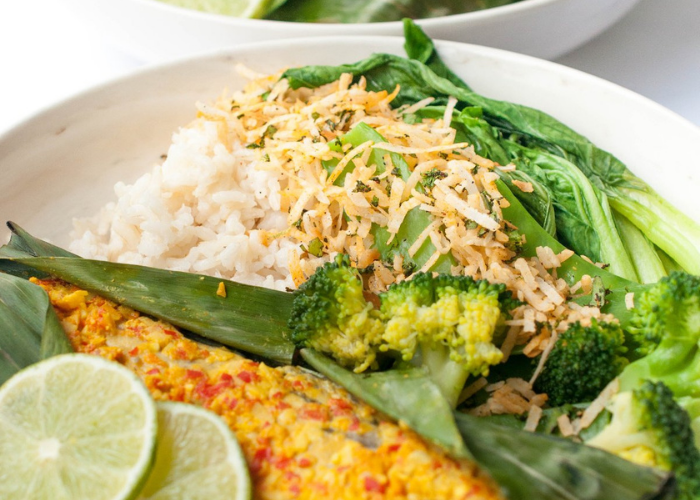 I was delighted to hear about the lovely Terri-Anne Leske's new venture with the opening of her Carrotsticks and Cravings Café & Cooking School recently at Dempsey. I think it's fair to say that within the food business, opening and operating a restaurant ranks as one of the most difficult and stressful challenges, but for this talented young woman, there is no end to her energy and initiative. Her Lowen Gardens' menu looks divine, so why not drop by for a pitstop between 8am-3pm, Monday to Saturday.
While thinking of Terri-Anne (beavering away in her very hot kitchen!), I am reminded of one particularly beautiful recipe she shared with us a while back for Turmeric Lemongrass Barramundi with Coconut Rice. This might be a delicious way to bank some healthy credits before the heavy foods of Christmas come upon us, using our Local Barramundi Fillet.  
How gorgeous does this dish look?
Serves 2 people
INGREDIENTS
For the marinade:
1 tbsp grated fresh turmeric
1 tbsp diced lemongrass
1 diced red chilli
1 clove crushed
garlic
1 tbsp fish sauce
Juice of one
lime
For the main ingredients:
1 cup wholegrain brown rice
1/3 cup coconut cream
1/3 cup shredded coconut – toasted
1 tsp chilli powder
2 tbsp chopped coriander
Zest of one lime
Your choice of steamed greens and lime to serve
INSTRUCTIONS
Combine all marinade ingredients in a mortar and pestel, and pound to a paste
Coat fish and marinate for 45 minutes
Cook rice in rice cooker
Pre-heat the oven to 200ºC and wrap fish in banana leaf or baking paper
Steam green veggies while fish is cooking for 12 minutes
In a small bowl, mix toasted coconut, chilli powder, coriander and zest
Stir coconut cream through cooked rice and plate up rice with veggies, fish, coconut crumbs and lime