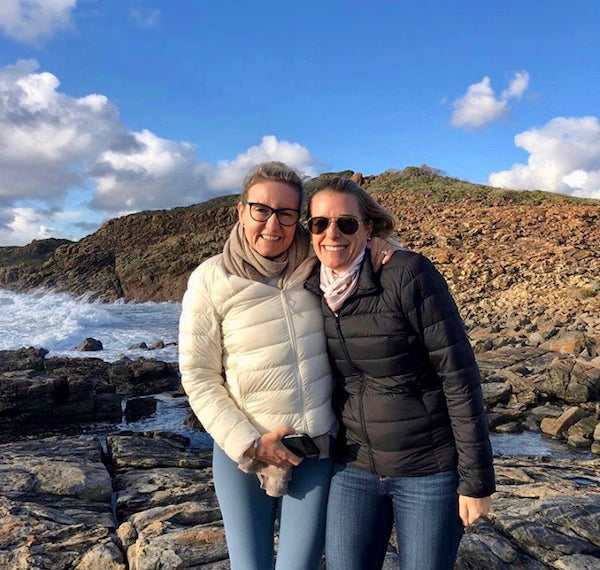 I never expected that Sasha Conlan would become my best friend.  
We had an inauspicious beginning; school bus pick-up, 6.45 am in a tropical downpour as Sasha (a new arrival) leaned in under my umbrella to introduce herself. After a few moments of where-are-you-from-how-long-are-you-staying-how-many-kids-how-old, she cut to the chase and won my heart, right there in our nearly-pyjamas..."Listen, I know this is a weird question, but do you have any idea where I can buy some decent chocolate?"  
By the end of that day, we were trading tips on where to buy the best sausages, the best butter, the best chocolate. Within a week, two of our kids were inseparable (and remain so), and within a year, the foundation of our enduring friendship was unshakeable.
Fast forward 15 years, we remain each other's best friend, confidante, therapist, nurse, advisor and all round go-to for whatever life throws our way.
So, when an acquaintance casually mentioned that she had a bit of "Sasha envy", I was, of course, all ears! "She's got The Life...all those amazing food trips...her own successful company...she makes it look easy, even with a house full of kids...!". 
I suppressed a laugh, not because my pal is wrong, but because the reality couldn't be farther away. There's an unseen world of family dynamics and challenges that are juggled in the fraught arena of running her company. With this in mind, I asked Sasha if she would allow me to interview her, not as a foodie trail-blazer, but as a working woman, wife, daughter, sister and mother of 3. I wasn't sure she'd take my bait, knowing full well she's a pretty private person, but I figured if I mentioned doing this over triple chocolate cake, she might just agree. 
She took the bait.
Me: Ok, Sasha.  Down to business.  Tell me what thoughts keep you awake at night.
Sasha: That's a really mean way to start!
Me: Yes, you're absolutely right but I'm going to have you answer the question anyway.
Sasha: It's a rough start but here goes! I'd say by far my biggest ongoing thought when I wake (frequently) in the middle of the night is around being away from the family so often. I travel around 6 weeks of the year, which is enough to make me feel I miss out on a lot of family "moments" and I worry about everyone when I'm gone. Grace is getting ready to take her IB exams, Alby is starting iGCSEs and Layla is in her final year of junior school. They're all at stages when I feel I should be here, there's a lot going on with their work, in their social circles, their sport.... so whether it's for chats or pick-ups or simply hearing about their day, I feel my absences very deeply.  
My family, Summer 2019 in Scotland
Being away also puts a lot of pressure on Jonny who does a fantastic job at double-parenting, but he has his own demanding job and I don't like the additional pressures my absence brings. I feel it gets harder as the kids get older and it's very important to be tapped into their lives at this stage.
I travel on my own, which I actually find really hard - I'm not great being by myself – I much prefer company, so it's never really that pleasurable to travel. Sourcing trips are crammed with appointments, often in remote spots, so there's lots of driving on my own from A to B, lots of odd-ball hotels and so on. It's a far cry from glamourous, and not every trip results in success. 
Me: We read a lot from you about the successful trips, but I'd love you to tell me a little bit more about a sourcing trip that flunked.
Sasha: Oh my goodness, it's got to be the Scottish Hebrides a couple of years ago. I went to visit a fish farm that was really promising and had a fantastic growing reputation. It's about as remote a location as you can get to from here and pretty brutal weather-wise at that time of year. I landed at Heathrow and took 2+ days by train/ferry/car to reach the farm itself. Bitterly cold, jet-lagged and seasick, I was pretty disappointed with what I sampled; the fish products were fine but not special enough for my customers and the "sustainable" running of the farm was a far cry from what I had been led to believe. For various logistical reasons, I had to go at that time of year and it didn't work to include other producers so unfortunately, I came back empty-handed. There was nothing remotely Condé Nast about that particular experience.
Me: I know you do a lot of driving on these trips and you're not so hot on traveling on your own. What do you do to alleviate the anxiety?
Sasha: Podcasts are my lifesavers. If I'm in motion, I've always got something playing to occupy my mind, even in the car on my way to the office in Jurong.  My go-to is The Doctor's Farmacy by Dr. Mark Hyman – he's a functional medicine specialist and unlike many of the "wellness" charlatans out there, I learn something important with every listen. Dr. Hyman is all about living healthily and disease-free for as long as possible – pretty simple but often illusive for many of us.   
I also adore conversational podcasts, interviews and 1:1s with people I'm keen to know more about or respect - Supersoul Conversations hits that mark. I'm not in any way religious but I like hearing from a wide flavour of modern-day philosophers and more 'spiritual' people.  
Me: What's been your all-time favourite work trip?
Sasha:  I'd say my first visit to New Zealand, back in 2014. I'd never been to New Zealand before. I was going to the South Island to source salmon with no real expectations, but arriving at Aoraki Mount Cook took my breath away. It was just mind-blowing, like nowhere I'd ever been. Meeting the people and sampling the products at Mount Cook Alpine Salmon was also a turning point for the business as it's our most loved product, which I guess made this a particularly memorable trip. I return to New Zealand every other year, it's always a delight to visit. 
Me: What was your last holiday?
Sasha: We spent this summer in the UK, which doesn't always feel like a holiday as such, as we haul ourselves from bed to bed around the country, but it was amazing fun and we had so many special times with family and friends. 
We built a house in Dunsborough, Margaret River about 6 years ago, and this is the perfect bolt-hole for us during school holidays. We often take friends and as you know, my last visit was in May this year with Alby and Layla, his friend Max, you and your lovely girl Rosie!
Myself, Una and various kids, Dunsborough May '19
Our last "proper" family holiday was summer 2018 and this was one of our most amazing holidays – Montenegro, Croatia and finishing up in Italy. It was absolutely magical and the whole trip was planned by Alby!
The family in Montenegro, Summer '18
Me: What would you say was the toughest day you've had since you launched the business?
Sasha: I don't have to think too long about that answer. It was both personal and business-related and was over 8 years ago. 
I'd just made my first really serious business decision to lease proper commercial premises in Tiong Bahru. Up until then, I was only selling New Zealand lamb from home, delivering to a small group of friends and their friends once a week. Word was spreading and I could see there was an opportunity there. I'd lined up a whole range of new products to arrive on the same day I was moving into the new warehouse. I had no team (other than my little assistants, Grace and Alby), no systems, no computers, no anything in place – just the goodwill of my friends and the optimism that everything would surely be fine.   
I had just been given the keys to the warehouse and hopped into my trusty people carrier (which I still drive) and headed to Changi airport to clear and receive my precious new products. If that wasn't excitement enough, my phone rang on the PIE and I heard the incredible news that our long wait to adopt had reached an end – there was a little girl waiting for us….
Our lovely Layla
I cannot tell you how overjoyed I was, nor can I tell you how overwhelmed I felt.  It was as if every important moment, every emotion imaginable was being distilled into that day. Fear, joy, anxiety, terror, disbelief, panic! Needless to say, everything happened exactly as it was meant to…Layla arrived, a tiny, beautiful 2-year old who joined Grace and Alby as the absolute centre of our lives. Yes…that was a crazy, chaotic day when I just wasn't sure I could do it all.   
I look at Layla now, she's 10, thriving, funny, bright, loving. It took all 5 of us time to adjust to having a new child/sibling with us, and for Layla herself, being a Singaporean child in a British family isn't without its complexities. That said, even before Jonny and I began our family nearly 18 years ago, we had always spoken about our wish to adopt. This was a long considered decision, and 8+ years on, none of us can imagine our lives without Layla. 
Me: Having asked about the rough, I have to ask what your best days been so far?
Sasha: I think I have three stand-outs in my mind. The day I hired Iz Mar, our much-loved delivery chief, felt like a massive achievement – he was my first employee, and remains by far the most cheerful, helpful and kind member of our team (we're up to 26 employees now). His gentle presence reminds me why I love doing this job and how far we've come from it being just the two of us in our little warehouse in Tiong Bahru.
Iz Mar, first employee and still going strong
My second milestone day is when we celebrated bringing in my investor - a kind, gentle and humble man who was a happy customer that gave me a call...  His hands-off involvement has allowed us to accelerate our growth but at the same time, draw on his infinite wise counsel. His team provide objectivity when I have big decisions to make, and I'm extremely happy to have him in my camp.
My final highlight, which you know all about, is our successful re-branding over 2 years ago. I started out as The Barbie Girls because I was only selling steaks, burgers, sausages etc. When I expanded to include a much broader range, I took the leap and re-branded to Sasha's Fine Foods. It felt risky back then – people knew us and I worried customers would be confused, but the whole process was brilliant, smooth and absolutely the right move.
Me: I came on board to work with you during that project, and I still see it was a collective master class in how to go about a big marketing transformation. Are you considering any other big step-changes for the business?
Sasha: I'll always consider doing what's right for the company and my customers. Right now though, I'm really pleased with how it's going, especially with our website and on the delivery side of things. Home delivery is the toughest thing for any business to crack in Singapore – finding and retaining the right people, ensuring absolute reliability of delivery schedules for customers, maintaining the cold chain, having a robust fleet and logistics team – it's what holds a lot of companies back here, but in terms of reliability and delivery times, I think we're the best in the business.  
As for next big steps? I have been working on an exciting new project in Bali. Maybe more on that later, after more cake....
Me: Mmm OK...! 
I think a lot of people imagine you eating out a lot of the time, maybe because you're so associated with quality food. I'd love you to share your favourite restaurants.
Sasha: I think it'd be surprising for some to hear that we rarely dine out, maybe once a month. Despite Singapore's jaw-dropping array of restaurants, I honestly find that a lot of times we go to a restaurant, we leave feeling disappointed by the quality, the service or simply the poor value for money. Frankly, I'd prefer to take half of what we'd spend dining out, and cook something amazing at home. I happen to have some rather excellent options on hand....!
If we are eating out and it's Jonny and myself, our favourite restaurant is Burnt Ends. We love sitting up at the counter, watching the chefs in action and enjoying the casual interaction as they work.   
We do have a couple of family favourites where we might all go once every few weeks. Publico is a super choice every time - it's a casual Italian at the InterContinental, Roberston Quay. They use top quality ingredients, so a pasta dish or even a pizza here tastes excellent and it's no more pricy than most of the casual Italian eateries around town.
Alby's Birthday at Publico
Another go-to for a family birthday is weekend brunch at Basilico at The Regency Hotel, a real favourite with the kids. They have a huge selection of excellent food, and good value compared with many of the other hotel brunch haunts around town. 
Me: When I'm at your apartment, I often see you whip up simple food that's consistently super-tasty and fast. I find it really hard to hit that mark. What's your strategy for everyday cooking at home when you're at work till evening time, how do you manage to get everyone around the table?
Sasha: I'm not a fussy cook at all but I am a planner, and I have a helper, Roan, who is a terrific cook. She and I tend to split the cooking between us – I find it therapeutic to prepare meals and we usually plan a few weeks of nightly menus at a time to avoid last minute panic. There are lots of after school activities, but we always eat together as a family, around the table, no matter what.
I have a handful of trusty default weeknight suppers; my kids are generally not great fish lovers, so I find roast chicken or a rack of lamb dead easy and satisfying, but a favourite is this very simple Roast Pork Shoulder which is always demolished and is now a weekly favourite. Dinner that's hands-on seems to work really well because everyone helps themselves, like Chicken Fajitas.  A weekly favourite for Jonny and I is Roasted Red Snapper in Tamari or miso-glazed cod (or barramundi works as well). I serve any of these with mashed potatoes, rice cooked in chicken bone broth or if the oven is on, roast potatoes. 
Me: Now, I know behind that veneer of healthy eating, you harbour a significant sweet tooth.  There's no hiding, so spill the beans…
Sasha: Spot on. I just won't give up my cakes and desserts. Honestly, I do my best to eat healthily but I will never be a candidate for eliminating the pleasure of baked goodies. I adore a good dessert and can't turn down the opportunity to dig in to Donna Hay's super-easy Magic Chocolate Molten Pudding with a very large dollop of whipped cream....  I'd actually eat this for breakfast. I also adore this Lemon, Polenta and Almond Cake from the River Café (again, whipped cream is a must) but if I'm out and about, it's got to be a wedge of Cedelè's Carrot Cake which is the best in town. I hunted high and low for their recipe which is as elusive as Coca-Cola's legendary mix, so I call this excellent version my As Good As Cedelè's Carrot Cake.  
Me: You've lived here for 14+ years, moved house 4 times, added a third child to the family, raised toddlers to teenagers, launched a thriving company, travelled far and wide.  What's next? Where do you see yourself in 5 years time?
Sasha: That question freaks me out! Do I have to go there?
Me: I may be your friend, but, I've got a job to do here.  Off you go...
Sasha: (a lot of mumbling and protest noises…) It's a huge question for any expat family, isn't it? Where is home now? Is it here? England? Australia or maybe somewhere completely new?  What exactly is our identity, especially for our children who've been raised here? To be honest, it's a subject that's beginning to come for us with Grace heading off to Uni next year and Alby three years behind her. For most of us, especially with older kids, seeing them through school is a huge goal and that certainly applies for us, so we're warming up the conversation but that's about it.
I feel very conflicted though, about the idea of leaving Singapore especially as Layla is Singaporean – her identity is very important to us, and we want to ensure she has a strong sense of her roots, her culture. Is that a reason to stay? I just don't know. But I do know we are very happy here and truly love the life we enjoy in this incredible country. We know how lucky we are.
Brexit is another massive consideration, and if that happens, I'm very unsure about returning to London. The economics, the social impact…it's mind-blowing, having grown up as a European Brit. Add to that the common concern we have with ageing parents who will need us more with each passing year; we both want to be more available to support them and our siblings at home.  
My Mum & Dad visiting me at work
The downside to having lived here for so long is the identity crisis I'm feeling as more time passes and our kids move on. I don't know where "home" will be which is unsettling. As they say, it's a very fluid situation, and I don't have a masterplan yet…but it'll have to be somewhere warm, with great food…that's for sure.  Maybe somewhere in Europe? Portugal? Italy? It'll be enormously exciting to work out that next big step.
Me: A friend recently commented that you seem to have a very glamorous life.  What do you think?
Sasha: (long pause, serious face)...you know what, I can see why some people would think that, I really can. Food is fun and can look pretty glamorous. Unfortunately, it's not. The hard graft is enormous; we are one of many online food companies in the market so competition is intense. I have to be better than everyone out there, every day. Unique, genuinely high quality products are really hard to source and involve a lot of research, travel and bureaucracy to bring in to Singapore. Warehousing fresh food, limiting wastage, on-time deliveries, fleet maintenance, recruitment and training, employment passes, inventory, taxation, constantly re-investing, the balance sheet...  it's painstaking work. The travel? Well, you have my thoughts on that already - in reality, it's not always fun or successful, and comes at a personal price to the family.  
After many years working as a lawyer in London, this was definitely a very personal passion project rather than a route to make my fortune. I run a tight ship, and I think it's true to say we have a pretty normal (albeit very blessed) lifestyle.  Just take a look at the banger I'm still driving after 11 years! Same financial worries as everyone else, same concerns about my teens and their lives, my ageing folks at home, the future. But I love it, almost every minute of it. 
Me: I guess I see all this first hand, and I know exactly how difficult it can be for you, but I couldn't imagine you doing anything different. Does it ever cross your mind to move on to something else? 
Sasha:
No. Never! Well except this new concept.... For the last year or so, I've been working on an ambitious parallel project in Bali which will segway beautifully with the business here. It's an emerging social enterprise called Sasha's Farms, focused on providing meaningful support and market access to small, hand-picked Balinese farmers and producers who currently only see a small return for their beautiful, truly organic products. In the next few months I'll be adding a selection of exquisite staples to Sasha's Fine Foods. I am really happy to be supporting these local producers and helping them access international markets.  
Sasha and I had been talking for half a chocolate cake and three pots of tea long, about 3 hours. We'd met at her condo in Orchard, an older building with lovely space and light. As the clock hit 4pm, the first of her three kids began bowling in from school. Then another. Then the last. It was a Friday and the quiet living room we'd shared for the afternoon transformed into a zoo. There were parties to get ready for, a training session at Turf City to get to, a stubbed toe to deal with, snacks to make, school forms fluttering about, a gentle scolding over a lost water bottle, pocket money requested and dispensed x 3. Could be any home on any Friday evening, with another harried working mum about to embrace the weekend.  The Life of Sasha is honestly about as normal as it gets.