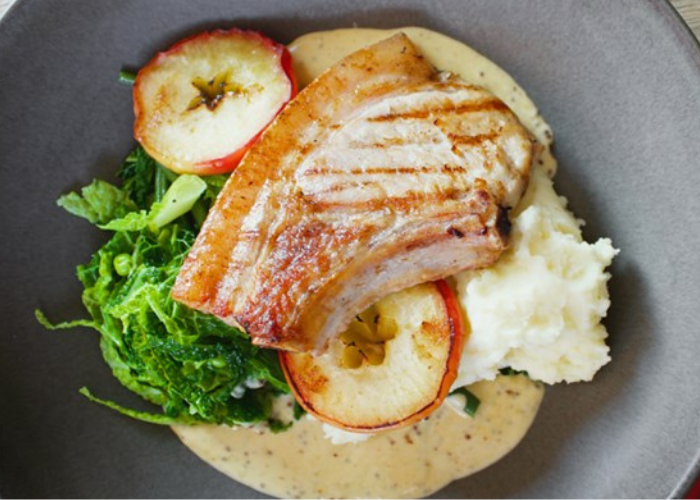 Creamy and indulgent weeknight dinner for two, perfect for impressing a loved one.
Serves 2
INGREDIENTS
2 
Wicks Manor English Pork Chops 
250ml Chicken Stock
2 heaped tbsp soured cream / full-fat crème fraiche
15g
butter
1
apple
, cut horizontally to give 1/2cm round slices. Remove any seeds with a knife tip
1 heaped tbsp wholegrain mustard 
Salt and freshly ground black pepper
Rapeseed oil or
Olive Oil
Chat Potatoes
for mash
Cooked savoy cabbage or
brocollini
to accompany
METHOD
Heat large heavy-based, non-stick pan over a medium- high heat.
Oil and season the chops and place in the hot pan.
Cook for 2 minutes on each side plus another 2 minutes on the fat edge to ensure the chops are beautifully browned. Remove from the pan and set aside on a plate under foil.
Wipe the pan of any blackened bits, drizzle with a little oil and melt in 15g of butter over a medium heat.
Once foaming, add the apple slices and cook for 2 ½ minutes per side until softened and golden, but still retaining a little bite. Remove from the pan and add to the pork.
Add the chicken stock, sour cream / crème fraiche and mustard to the pan and whisk until blended. Bring to a gentle simmer.
Return the pork to the pan and simmer uncovered for a further 5 minutes, turning the chops once halfway through, until the meat is just cooked. Do not overcook the pork as it may turn tough.
Transfer the chops to plates, pour over the sauce and add the apple slices.
Serve with mashed potato and cooked savoy cabbage or brocollini.
Recipe and Image Credit: Wicks Manor